A quick preparation for a PAB Mandatory Theory Test coming at the end of June 2021.
We collect some thoughts that could be covered on your theory test.
We hope this will help you get started to pass your theory test.
Fast Tips on PAB Basic Theory Test | Part A
3 Active Mobility Devices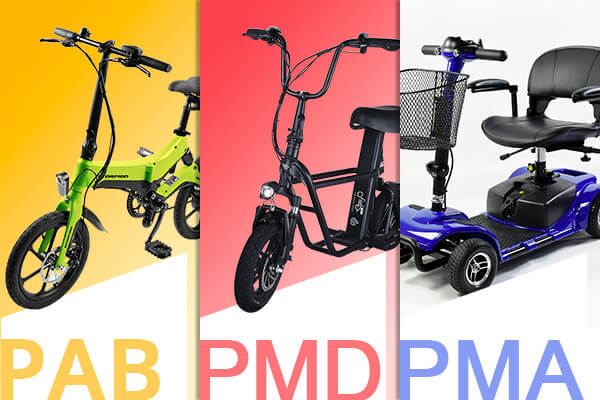 The 3 types of Active Mobility Devices in Singapore are:
Power-Assisted Bicycles (PABs) / E-bike
(equipped with an electric motor to assist with pedaling)
LTA Registered
Orange Tag on the rear of the device
PAB Theory Test Certificate Required
Cycling Paths and Roads ONLY
Min Age: 16 years old for driver and pillion passengers
Max Speed: 25km/h
Max unladen weight: 20kg (include bottle holder, not the bottle itself)
Max Width: 70cm
EN15194 Compliment (European safety standard)
(motorized PMDs with handlebars)
LTA Registered
Registration mark (a sticker) and identification mark on the device
E-Scooter Theory Test Certificate Required
Cycling Paths ONLY
Min Age: 16 years old; superage must be supervised by adult (≥21 years old and passed theory test)
Max Speed: 25km/h
Max unladen weight: 20kg (include bottle holder, not bottle itself)
Max Width: 70cm
UL2272 Compliment
Personal Mobility Aids (PMAs)
(Motorized wheelchairs or mobility scooters designed to carry an individual who cannot walk or has walking difficulties)
No LTA Registration Require
No Tag Required
No Test Certificate Required
Cycling Paths and footpath ONLY
No Minimum Age
Max Speed: 10km/h
No unladen weight
No Max width 
In Singapore, there are 3 Types of Paths applies:
a) Cycling Paths, labeled 'Cyclist' or 'PCN' path marking, speed limit of 25km/h
b) Foot paths do not have any 'Cyclist' or 'PCN' path marking. Speed limit is 10km/h
c) Roads paths, no applies expressway and road tunnels
For a better image for understanding which correct path for cycling, visit here.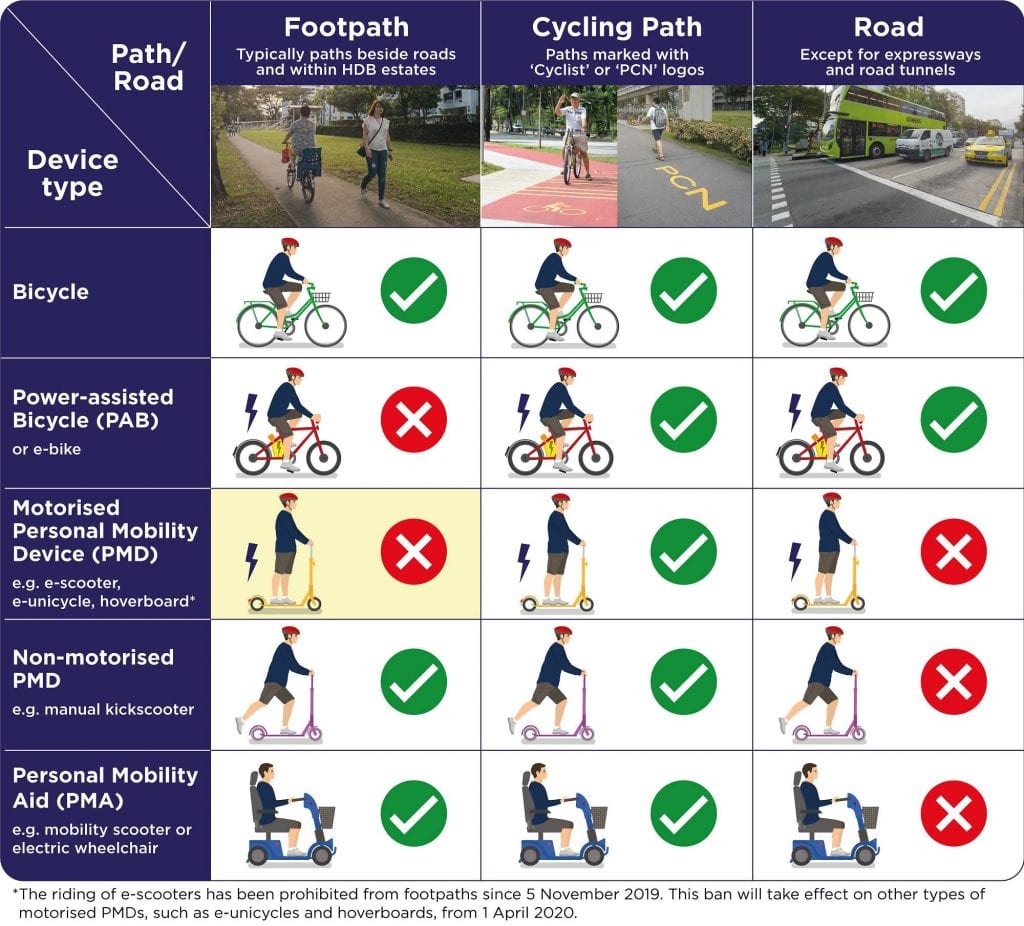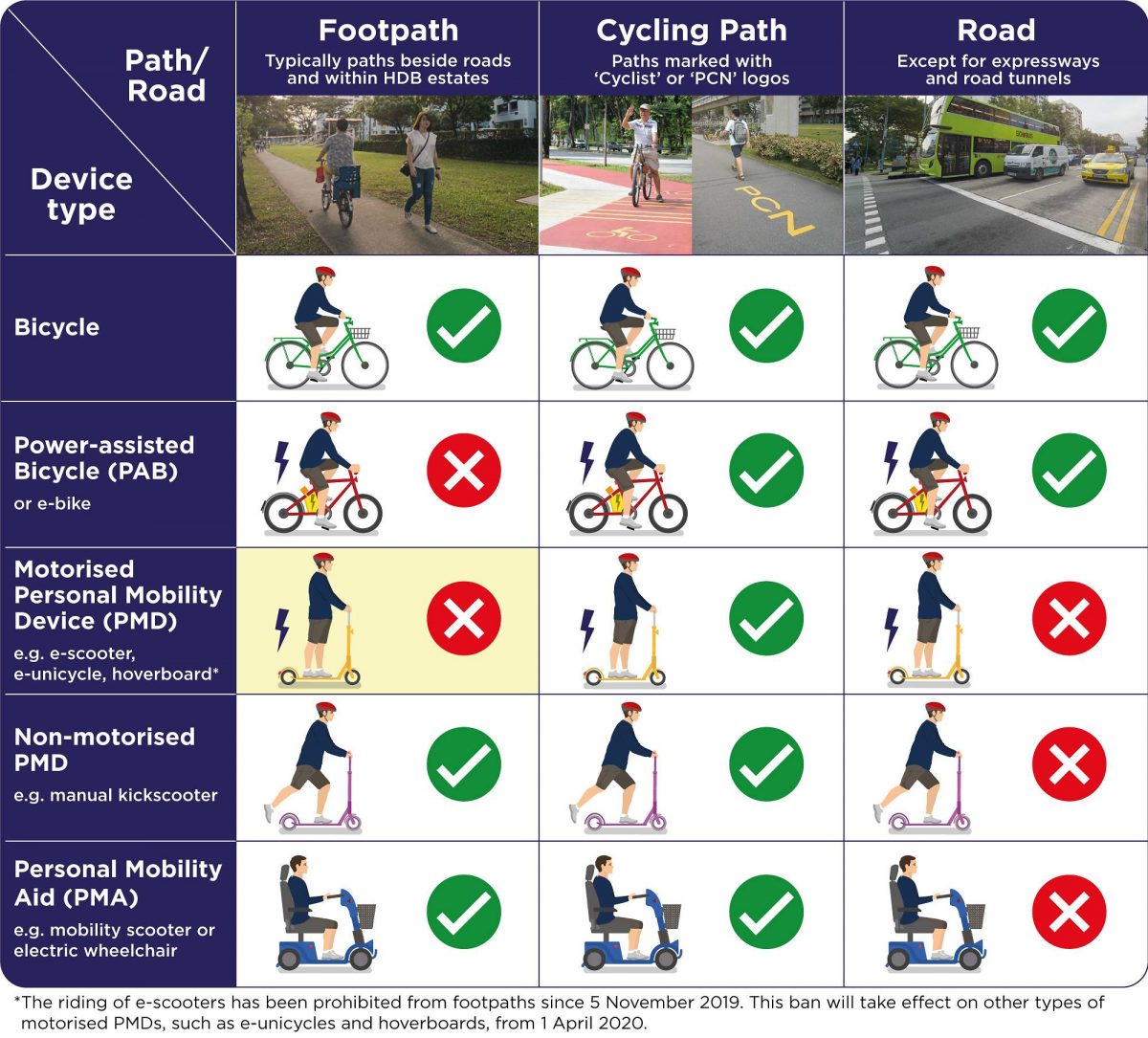 Guidelines for Riding on Public Paths
Slow down around others, always make way to pedestrians
Slow down when reaching close by bus stops and public intersections
In crowded areas, dismount your device and walk
Keep left on paths unless overtaking. Gently alert others before overtaking.
Keep a safe distance
Avoid shining your lights onto the face of other path users
Keep both hands on the handlebars. Signal your intention to change course or make a turn ahead of time
Ride on cycling paths and bicycle crossings when available
Park your device at designated parking places such as bicycle racks and yellow boxes
Guidelines for Riding on Roads
Always ride closely to the left edge of roads, and allow traffic to overtake you safely
Follow all traffic signals and traffic directions
Always use bicycle lanes when available
Always keep a safe distance on the roads' vehicles
Don't squeeze between the kerb and a bus
Slow down and look out for others when approaching other junctions
Control your speed when riding on a hill or get off to walk your device if a hill is steep
Things don't do to prevent your device overheating and risk of fire incident:
Charge on hard, open and flat surfaces away from combustible materials
Charge in a cool room and away from heat
Don't cover the device with any fabric during charging as it slows heat dissipation
Avoid overcharging. Don't leave batteries or devices to charge overnight
Allow for heat dissipation. Avoid charging the device when it is hot
Avoid charging the battery when wet
Check batteries for any damage or deformities
Keep and store devices properly. Batteries should be stored at room temperature
Don't modify or tamper with the device's original electrical components
Only use power adaptors that are recommended by the PAB manufacturer and have a SAFETY MARK
PABs should be maintained about once a month
Arrange your PAB servicing at least once every 3 to 6 months
Don't replace any PAB parts with third-party parts. Replacement of parts should be done by an authorized retailer who can replace the worn-out parts with the original manufacturer's parts
Pre-Ride Equipment Check on PABs
Squeeze the brake levers to check are working properly and are not worn out
Check that the wheels are hard to squeeze with no visible cracks or tears
For foldable devices, check that all latches are locked properly
Ensure that the seat is at a comfortable height
Adjust the height of the seat such that there will be a slight bend at the knee on the extended leg (about 20 degrees) when your foot is on the pedal at the lowest position
The seat angle can be adjusted to your comfort. Or else, it can cause numbness or injury
Loads and accessories must be properly secured
They should not block your view or affect your steering
Only carry passengers if your device has proper seats for passengers.
Passengers should not block your view
Equipped with a front white light and rear red light
Check the light before starting
Turned on between 7 pm to 7 am
Shouldn't too bright or projected into the face of others
Don't retrofit your device with lights (is illegal)
Wearing of helmets is compulsory
Wear bright coloured, fluorescent or reflective clothing to increase visibility
You should carry an In Case of Emergency (ICE) card or an ID tag in case of incidents
Don't wear loose clothing
Parking, Security and Storage of Device
Don't park which causes obstruction or inconvenience to others. Or else may cause you a penalty fine and your device impounded
Don't park on walkways, at bus stops, or by trees and lampposts
Park at designated parking spaces
Secure your device to prevent theft
Bringing PABs on Public Transport
PABs and bicycles are allowed on public buses and trains if they don't exceed the size limit (120 x 70 x 40 cm)
Foldable devices must be kept folded at all times
Motorised devices must be switched off
Devices are not allowed on the staircase or upper deck of buses
Don't ride in public transport
Don't block aisles and doors
We wrap up some points to facilitate your test preparation – Fast Tips on PAB Basic Theory Test | Part A. This has covered Active Mobility Devices general information and Equipment Check for PAB Riders. Would you continue to read Last Module Part B | Rules and Code of Conduct for Using an E-Scooter?