Most people probably have active clothes in their closets, so why do cyclists choose to wear cycling-specific clothing? Cycling clothes fit better than regular clothes as they often reduce bunching, keep the lower back covered, and are suitable for cyclists to bend over for cycling exercise. 
When a cyclist sweats during a cycling exercise, the cotton clothing stays wet and takes a longer time to dry. In addition, cotton takes a long time to dry out and it slows you down from exercise. It may be good to Just say NO to Cotton!
The need for cycling clothing actually came about in the 1800s, as cycling grew in popularity until today. Nowadays, many people agree that Singapore is an environmentally-friendly mode for cycling transport. We could often see on Youtube or cyclists' videos, YouTubers and cyclists usually wear cycling apparel more comfortably, more efficiently, more protected, and generally happier riding on their bikes. 
In this article, we will share with you the types, benefits, disadvantages, and everything you need to know about cycling clothing. Let's jump into it!
Why Wear Cycling-Specific Clothing?
Cycling Jersey is popular clothing for cycling activities. It covers cyclists lower back when cyclists lean forward on cycling. With pockets at the back you can carry accessories and a water bottle while cycling. It would be the best option to keep cyclists happy.
Bib shorts and bib tights have overall-like straps that go over shoulders, developed high-density chamois pad for comfort during high-intensity race efforts.
Padded cycling shorts make cycling much more comfortable and efficient, and help you ride faster and longer. These shorts are for the series cyclists for long hours cycling.
Material
Lycra, Nylon, Elastane (Spandex), Polyester
Brands

Rapha, Castelli, Sportful, Pearl Izumi, Assos Equipe, Maap
Price ($)
From S$35 – S$150+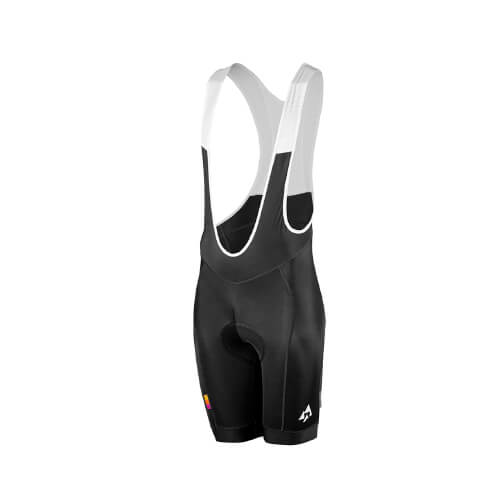 Benefit of Professional Cycling Clothing
Proper cycling clothes ensure riders save energy for long cycling. It helps cyclists to go faster and for better styling to match with cycling style. 
A good cycling cloth provides good breathable fabric that will keep you dry and cool no matter how long you ride, or how hot the weather is. Also, it will protect you from harmful Ultraviolet radiation (UV rays).
Wick sweat away from your skin
Comfort riding for long travels
Lesser obstruct than common clothing for exercise
Save energy & efficient cycling
To store bottles, accessories
Chafing, moisture-wicking, aerodynamics, and padding
If cycling with these situations mentioned above, wearing cycling clothing may cause these conditions to become worse. Cyclists will feel more pain or uncomfortable during the rides.
The proper cycling clothing fits closely to the body, specific clothes make cycling smooth and cycle comfortably either if cyclists are on the road or travelling to work or biking on the hills.
Wearing cycling clothes helps cyclists save energy and time for efficient cycling activities. That's all we got for this, let us know what you like to hear more by dropping your comment below.