Thinking to purchase E-scooter in Singapore? Worried about rules and regulations to be followed by the owner? Thinking whether E-scooters are legal to use in Singapore? Or thinking about where to and where not to use E-scooters in Singapore? 
Oh……too many questions! right?
Don't worry, we are here to help you in knowing more about E-scooter rules to be followed by owners in Singapore. This might help you in not getting caught unnecessarily.
E-scooters are being constantly surging in popularity for its use in Singapore. Maybe because it is the most affordable and low maintenance personal mobility vehicle one can afford without a great slump in savings or maybe It can be used to commute for short distance easily.
But with recent rules on E-scooters in Singapore due to safety precautions and measurements, owners have to follow some process and rules before riding them on roads.
If you are looking to purchase E-scooter or already an existing E-scooter owner, here is some information that might help you in clearing all the doubts around using E-scooter in Singapore.
We have covered some common concerns of E-scooters owners.
Is my E-scooter LTA approved?
Is my E-scooter comply with the UL2272 fire safety standard?
Do I have to register E-scooter before using it?
Can I use E-scooter for a daily commute?
Where to ride E-scooter?
Can I bring my E-scooter on to public transport?
Should I have to wear a Helmet while riding E-scooter?
What is the maximum speed I can travel?
Guideline for riding E-scooters
Below 16 years old can ride E-scooter?
1. Is my E-scooter LTA approved?
Even you are looking to purchase E-scooter or already an existing owner, make sure your vehicle is Land Transport Authority(LTA) approved before using it on roads.
Your E-scooter must have all the criteria for LTA approval:
The maximum weight of the E-scooter is 20 kg.
Maximum speed is 25 Km/hr
Maximum width of 70 cms.
UL2272 certified device.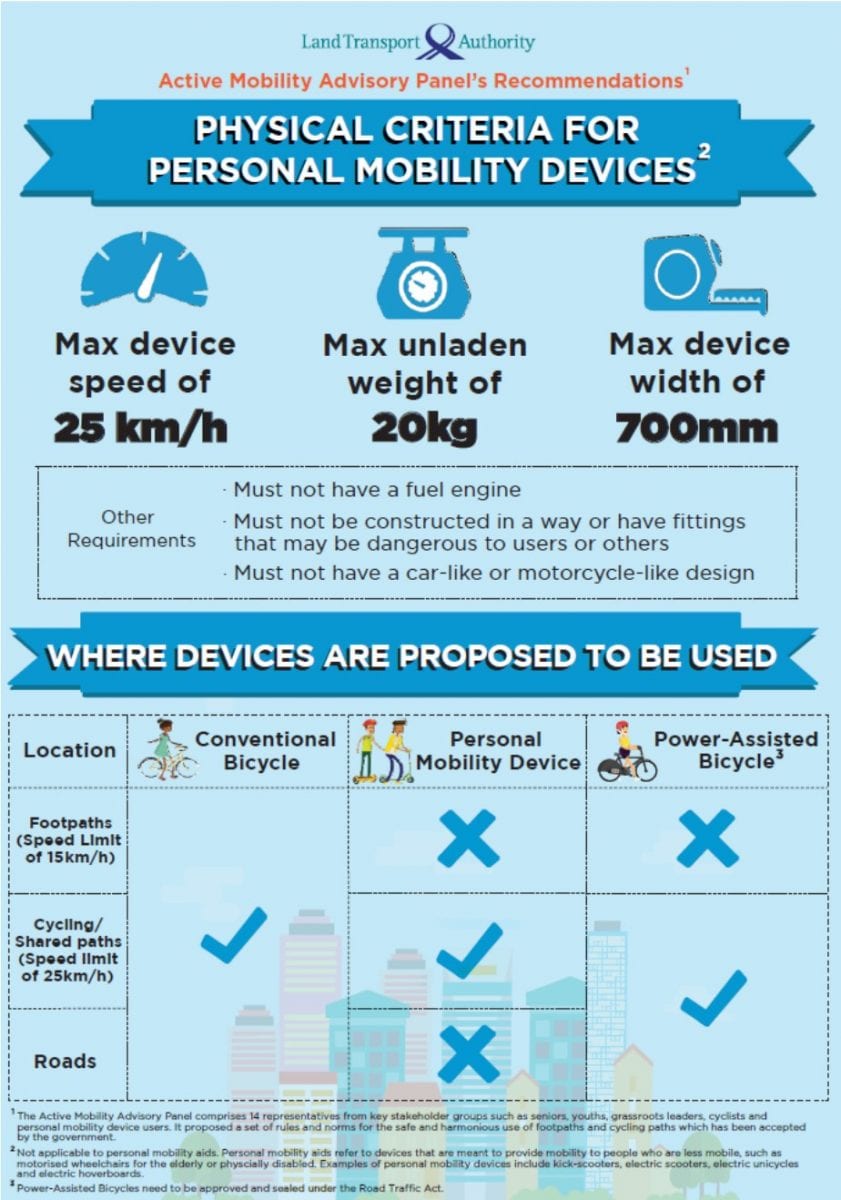 (Picture Source: Internet)
If your E-scooter meets all the basic requirements stated, then you can schedule an inspection with LTA authorities at one of their designated EIC's (E-scooter Inspection Centers). Click here for more info on EIC centers.
If you are looking to purchase a new E-scooter, please make sure that you are purchasing an already LTA approved vehicle from a retailer. Retailers are required to send all e-scooters to be inspected and certified at an LTA designated E-scooter Inspection Center before they can be advertised, displayed, and/or sold for use on cycling paths (including letting for hire).
2. Is my E-scooter comply with the UL2272 fire safety standard?
Based on Singapore government regulations on E-scooters, from 1st July only UL2272 motorized PMDs will be allowed on cycling paths. Non-UL2272 e-scooters that have been registered with LTA will, therefore, be automatically DE-registered on that date.
A mandatory inspection regime for registered e-scooters has been introduced from 3 April 2020, and all e-scooters which were earlier registered and self-declared UL2272-certified will be scheduled for inspections.
Please note the slight variation in the mentioned dates due to Circuit breaker measures in Singapore.
UL2272 fire safety standard measures the safety against fire and electrical hazards significantly. Motorized personal mobility devices (PMDs) that are certified to the UL2272 standard have to pass a stringent set of tests conducted by accredited testing centers under extreme physical conditions. Users who modify a UL2272-certified PMD may render its certificate invalid, posing a fire risk. 
After all, it is for all our safety.
3. Do I have to register E-scooter before using it?
Yes, you should ride only registered E-scooters.
For Existing registered E-scooters
LTA will schedule a mandatory inspection for E-scooters registered before 3rd April 2020 and were declared as compliant to the device criteria mentioned above. The first-time inspection will be at no cost to these owners. Owners of the device will receive a notice from LTA informing them to bring their device for inspection at any of the nine E-Scooter Inspection centers (EIC's) Island-wide.
Note: For the location list please click here.
For E-scooter purchased on or after April 1st, 2020
From April 2020, all E-scooters will be required to pass through an inspection before they can be registered for use. Retailers/businesses will only be able to display, advertise, sell, or let for hire e-scooters that are inspected and certified.
Please make sure you are buying them from certified retailers.
4. Can I Use E-scooter for a daily commute?
First thing first, many of you might be wondering whether you are allowed to use E-scooter or not. Of course, you can use E-scooter for daily commute as you used earlier except on the destined footpaths only for pedestrians and by following all the rules suggested mandatory by LTA.
And the E-scooter, of course, should be approved and registered by LTA before.
5. Where to ride E-scooter?
Knowing where to ride and the speed limit is the best practice for your safety and others. Casualties have to be faced if caught riding on the wrong path or at hight speed.
E-scooters comes under Personal Mobility Devices (PMD). The riding of PMD's is not allowed on footpaths. Can be used on park connectors and cycling paths that can be identified easily with identifying marks on the way.
Note: Picture to be included for park connectors, cycling paths, and footpath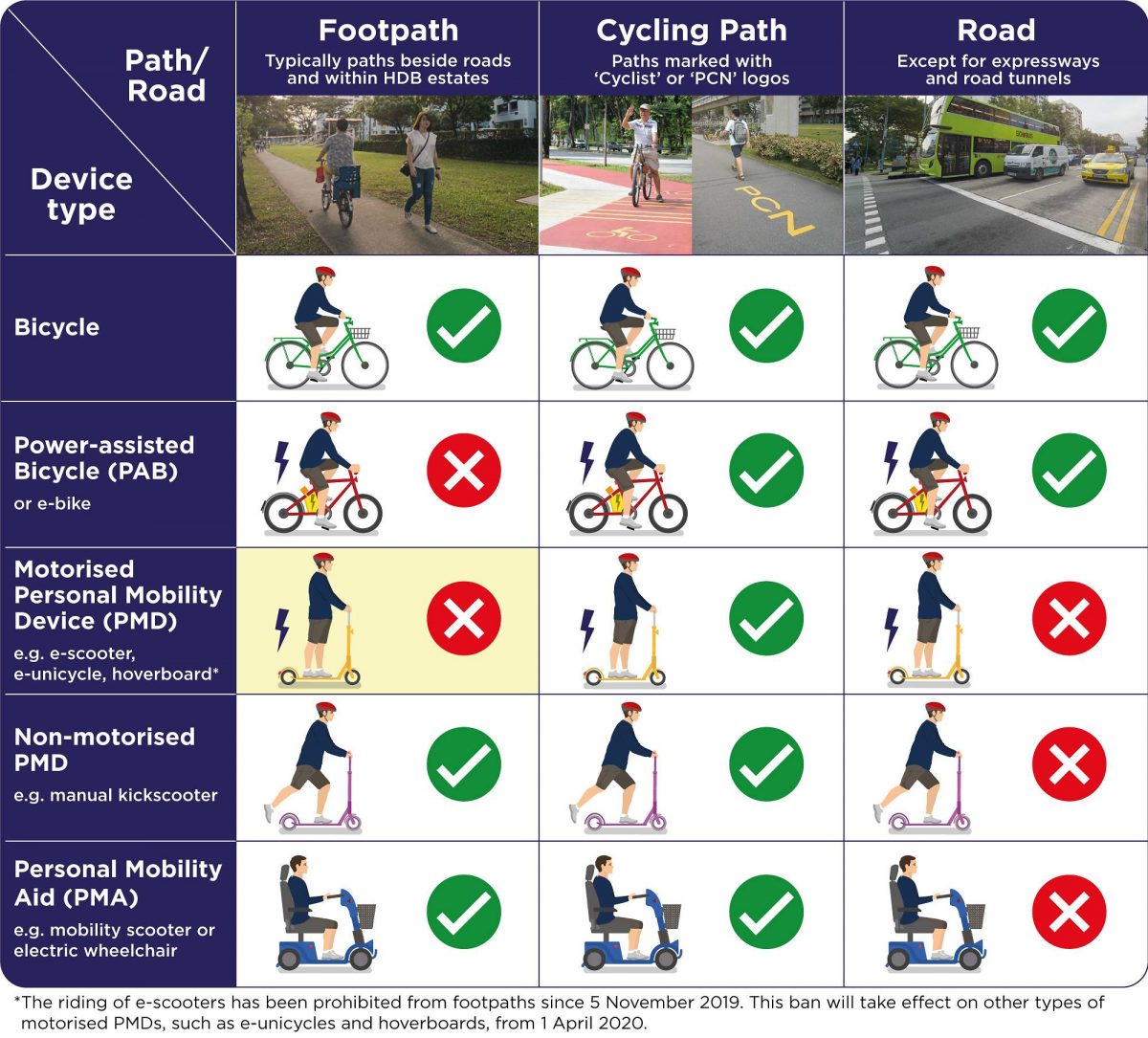 (Picture Source: Internet)
6. Can I carry my E-scooter on to public transport?
No one denies, that Singapore is well connected with MRT trains and buses all over the continent. If the E-scooter is allowed to carry on public transport, it makes our life easier right?
E-scooters/PMDs are allowed on public buses and trains at any time of the day as long as they are kept folded at all times. They must also be pushed or carried instead of being ridden on.
7. Should I have to wear a Helmet while riding E-scooter?
As of now, it is not mandatory to wear a Helmet for E-scooter riders. However, riders are advised to do so.
We highly recommend wearing helmets even though there are no regulations at the moment stating that it is mandatory. This helps to protect you from any event of an accident.
8. What is the maximum speed I can travel?
The maximum speed that you can travel is at 25 Km/hr only on destined paths.  Make sure you are riding at a safe speed that might not harm you or the other on the road. Let's make it safe for everyone on the roads.
9. Guideline for riding E-scooters
Please follow the mentioned guideline for a safe ride.
Watch your speed and go slow around others.
Check that your lights, brakes, and tires are in good working condition before setting off.
Check the height of your handlebars and seat on the bicycle to ensure that you have full control of the device when coming to a sudden stop in an emergency.
Keep both hands on the handlebars. Signal your attention to change course or make a turn ahead of time.
Ride on cycling paths and bicycle crossings when available.
Keep a safe distance from other path users, especially when overtaking to avoid a collision.
Avoid shining your lights onto the face of other path users.
Keep left on paths unless overtaking.
Slow down when approaching bus stops and/or intersections of public paths.
Walk your device in crowded areas.
Gently alerts others before overtaking.
Always give way to pedestrians.
Park your devices at designated parking places such as bicycle racks and yellow boxes.
Be sure to securely lock your device to prevent it from being stolen.
10. Any age restrictions for E-scooter use?
Yes, users of e-scooters must be at least 16 years old and take a theory test before they can ride their devices on public paths.
Compilation Of Fines And Penalties For Bicycle, E-scooter, PMD, PAB Or PMA Offences In Singapore
(Picture Source: Internet)