Carbon fiber mountain bikes have been popular in the market recently due to its several features.
Lightweight.
Nicer coating.
More durable.
Carbon fiber Bike VS Traditional Bike
Compared to traditional aluminium bikes, carbon fiber bikes are more lightweight, has a nicer coating, and tends to be more durable.
But do you know that the current market prices for good carbon fibre mountain bikes range from $4,000 to $12,000?
Carbon Fiber Bikes Starting From
If you think spending $4,000 is too expensive, let us introduce you to a few good quality carbon fiber bikes in Singapore starting from $900!
7 Best Carbon Fiber Mountain Bikes in Singapore
If you are looking for the best value for money carbon fiber mountain bikes out there, Minimotors SG is your best choice!
Competitively priced from $900 to $1,890, their carbon fiber bikes come with Japan Toray T700 Carbon Fiber and Shimano groupsets. You can almost never find this price elsewhere!
Let us check out the top 3 carbon fiber mountain bikes they have.
1. VOLCK Marl 2 Carbon Fiber Mountain Bike ($990)
Best Value Entry-Level Mountain Bike
VOLCK Marl 2 is one of the most value for money carbon fiber mountain bikes out in the market suitable for beginners without breaking the bank.
On average in Singapore, the price of carbon fiber frames itself already costs around $1,000. As for VOLCK Marl 2, it is only $990 for the whole carbon fiber mountain bike!
The VOLCK Marl 2 comes with a lightweight carbon fiber frame, Shimano Altus M2000 groupset with 3 speed settings at the front and 9 at the rear, allowing you to experience a total of 27 different speeds.
Even though the VOLCK Marl 2 is an entry-level bike for beginners, you can choose to upgrade the groupset in the future while keeping the frame, and you can still have your own professional lightweight carbon fiber bike.
The best part about this bike is that it only costs $990!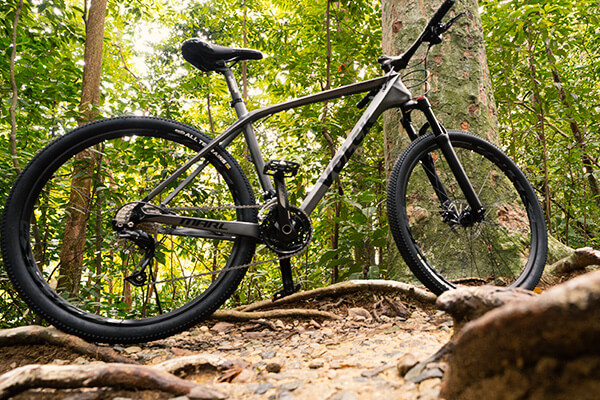 2. VOLCK Marl 6 Carbon Fiber Mountain Bike ($1350)
Best Mountain Bike for Novice
The VOLCK Marl 6 is one of the best choices for novice riders, at a fair price of only $1350.
As compared to Marl 2, it is slightly more lightweight, with the seat post and handlebar being carbon fiber material as well.
It also uses a professional groupset, the Shimano Deore M6100. This justifies the price difference between VOLCK Marl 2 and 6.
Even though Shimano Deore M6100 only has a 12 speed function, the previous 30 speed Shimano Deore M6000 has already stopped its production.
Minimotors SG decided that it would be the best option to choose a groupset that is still in production for their customers' convenience.
It would be hard to find replacement parts for the Shimano Deore M6000 in the future.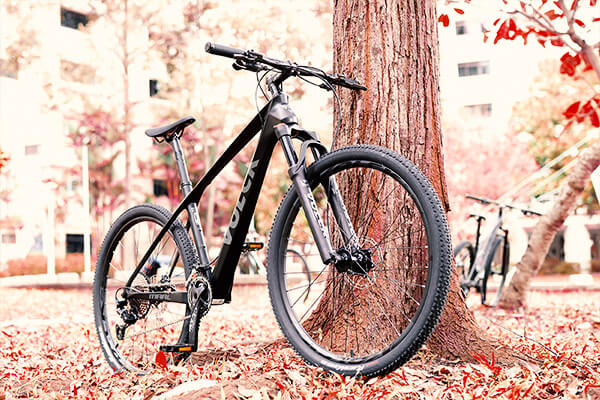 Additionally, for enthusiasts who want to make it more lightweight, just a change of tire rims to carbon fiber material, and it can be at least 0.5-1kg lighter.
3. VOLCK Tuff 6 Carbon Fiber All Mountain Bike ($1890)
Best Mountain Bike for Professionals
If you are looking for something even more professional than the previous 2 bikes mentioned, there can only be the VOLCK Tuff 6. 
At a price of $1890, it is one of the most competitively priced mountain carbon fiber bikes out there in the market for its quality!
Even though the VOLCK Tuff 6 is heavier than VOLCK Marl 2 and 6, the frame is slightly bigger than the other 2, and it comes with a full suspension.
Similar to the VOLCK Marl 6, VOLCK Tuff 6 comes with a professional Shimano groupset, Deore M6100, and a carbon fiber seat post.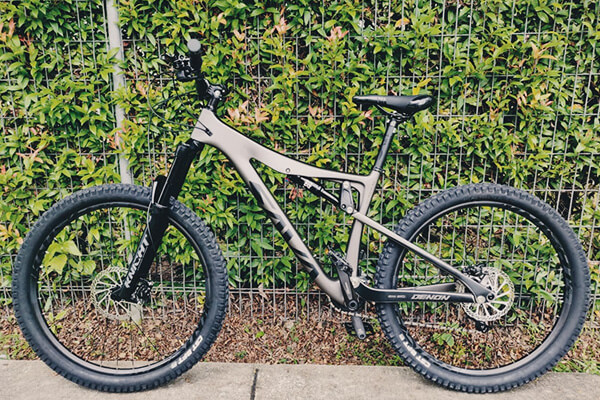 Treknology 3's carbon fiber bikes are not the cheapest, but for professionals looking to invest in the top quality pieces, this is definitely a go to.
All their carbon fiber bikes are made from Trek patented OCLV carbon, which is something unique, and here are a few of their bikes we recommend.
4. Trek Supercaliber 9.7 NX ($7699)
The Cheapest Treknology 3 Carbon Fibre Bike
The Trek Supercaliber 9.7 NX is not as cheap as the carbon fiber mountain bikes Minimotors SG has to offer, but it does come with a professional groupset as compared to Minimotors SG's bikes.
It comes with:
OCLV carbon frame and wheelset
Trek SRAM NX Eagle groupset
Full suspension, using a special technology called IsoStrut, to give you more control over the hardtail
Carbon seat post and handlebar
12 speed adjustments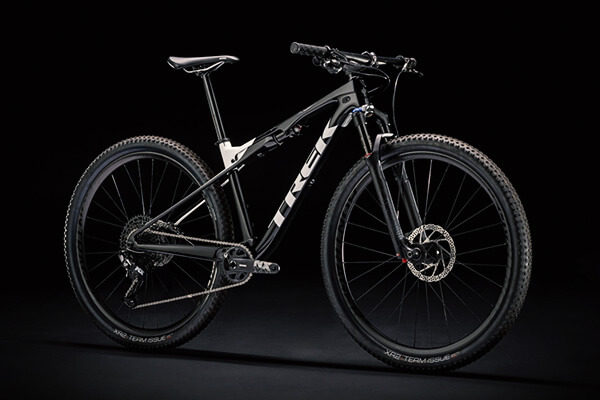 5. Trek Remedy 9.9 Race Shop Limited ($12,999)
The Best Treknology 3 Carbon Fibre Bicycle
Priced at $9,749, the Trek Remedy 9.9 Race Shop Limited is definitely not a bike that everyone can afford. It is $2,000 more expensive than the Trek Supercaliber 9.7 NX, and here's why.
It comes with:
OCLV carbon frame, handlebar, and wheelset
A professional SRAM groupset than Supercalibre 9.7 NX, the SRAM X01 Eagle
Full air suspension using the RockShox Deluxe RT3 technology
12 speed adjustments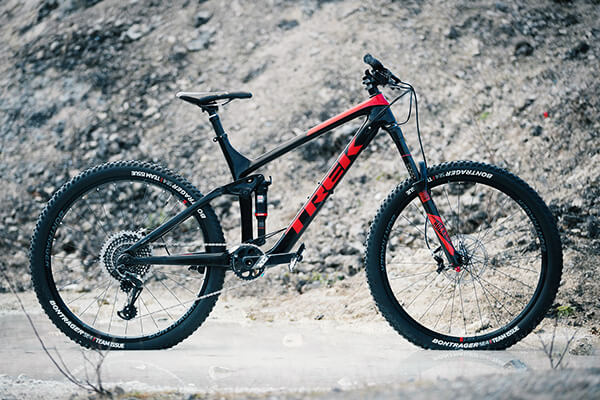 Another go-to place for bike enthusiasts and professionals looking for professional carbon fiber bikes, Specialized SG offers a few kinds of frame designs that are specially engineered for professionals.
The Cheapest Specialized SG Carbon Fibre Mountain Bike
Cheaper than Treknology 3's cheapest bike, this is a good choice for professionals looking for professionals carbon fiber bikes without breaking the bank.
It comes with:
A full carbon frameset using FACT 11m Full Carbon, Modern XC Race Geometry, Rider-First Engineered™
Full suspension using RockShox air suspension for the front and RockShox specialised BRAIN Technology for the rear
Professional Shimano SLX M7100 groupset
12 speed adjustments
7. S-Works Epic ($17,270)
The Best Specialized SG Carbon Fibre Mountain Bike
The S-Works Epic is the most expensive carbon fiber mountain bike Specialized SG offers and it comes with:
A full carbon fiber frameset using S-Works FACT 12m Carbon, Modern XC Race Geometry, Rider-First Engineered™
Full suspension using RockShox specialised BRAIN technology for the front and RockShox SID SL ULTIMATE BRAIN technology for the rear
A professional mix of SRAM XX1 Eagle and AXS Eagle groupset
12 speed adjustments