Wondering which bike to buy and which Groupset best suited for your requirements. Overwhelmed with information on internet. If you are probably checking for Groupset, Shimano would be first name to appear on top. Yes, Shimano road bike Groupsets, their is lot of information on them and more technical and confusing. Dont worry, we got you covered with including the different range of Groupsets from Shimano. Don't worry we haven't gone very technical in deep; we have explained in simpler terms even you are reading with no idea about Groupset, you will get an idea by end of this blog.
Shimano is one of the finest Japanese companies and the best manufacturer of top-end groupsets in bicycles for both road and mountain bikes. Plenty of companies make bike components, but the market in 2020 is dominated by the giant: Shimano with Shimano Road bike Groupset.
You might wonder what is groupset in bicycle, so basically, groupset includes gears and brakes of your bike. Nevertheless, the groupset is where a lot of the money goes in a bike. The more expensive groupsets are lighter and usually offer smoother gear shifting and superior braking performance, and you get more gears and with the more expensive groupsets.
Fun fact: Some of them emphasize Shimano as being to bicycles what Bill gates are to computers.
You can't avoid the fact that Shimano has created its own brand identity in creating best Groupsets with a wide range of sets to all types of road and mountain cycles.
In this blog, we know in more detail bout Shimano Road bike Groupsets.
We'll start this buyer's guide by explaining the different groupsets available in their hierarchies and bicycles available with these Groupsets in the market.
Here is the list of least to most expensive Groupsets by Shimano……..
Claris: Entry-level Shimano groupsets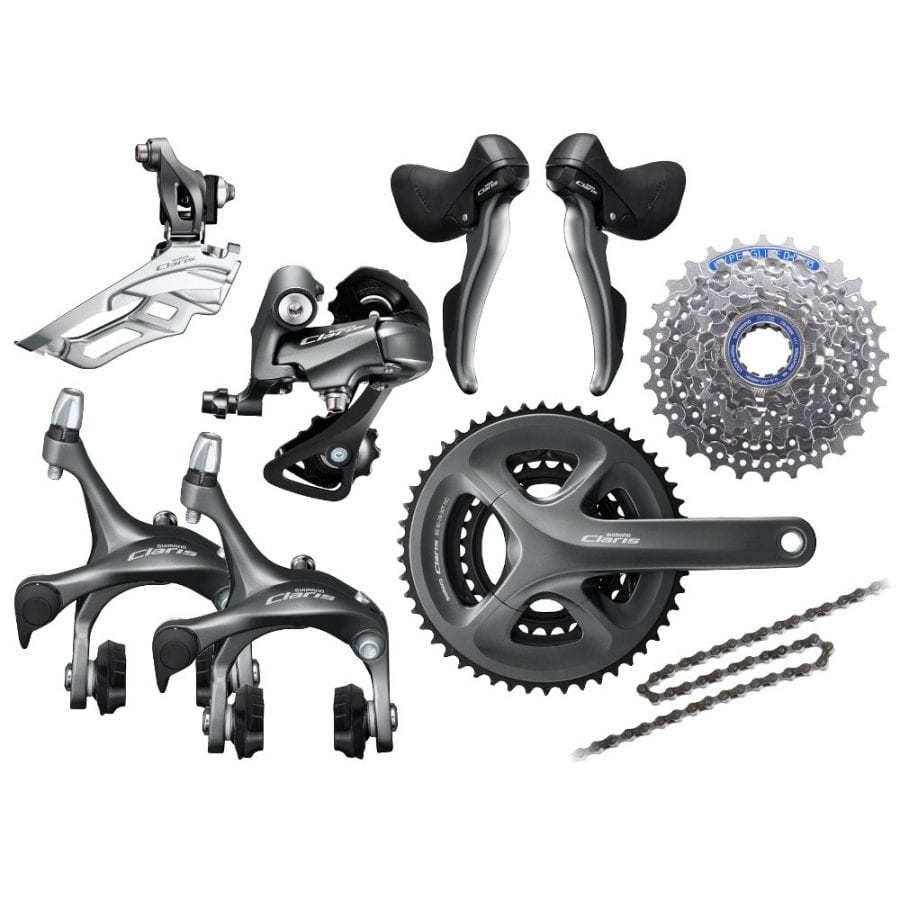 The Shimano component range starts with the budget-priced Claris, which is usually found on the most affordable bikes available.Claris is an 8-speed system (eight gears at the rear) combined with either a double or triple crankset (two or three gears at the front).
Buy Shimano Groupset : Claris if you're on a budget
Sora: Entry-level Shimano groupsets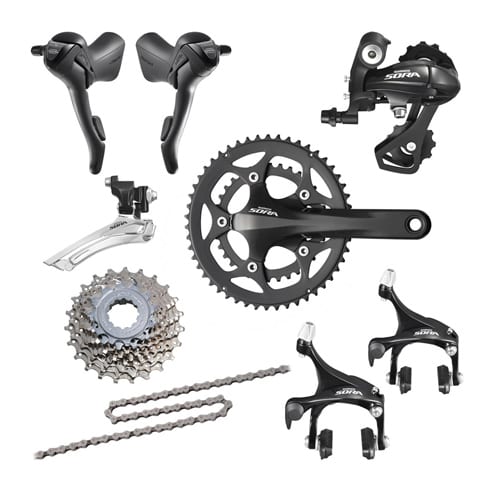 Next is Sora, which can also be found on entry-level bikes and is a 9-speed system available in either standard double cranksets or a wide-range triple. The Shimano Sora is possibly the most easily overlooked groupset in the company's range. While budget bike hunters are impressed by the effective gear swapping of low-end options.
Shimano Sora is a 2*9-speed groupset widely seen in budget bicycles.
Buy Shimano Groupset : Sora if you want performance and value.
Our Shimano Sora Groupsets Product
Tiagra: Entry-level Shimano groupsets​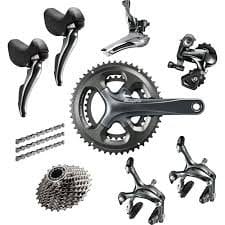 Then comes Tiagra, a 10-speed groupset that offers a near-105 experience, but economizes in specific areas, for example with one-piece brake pads rather than higher quality cartridges.
Tiagra is Shimano's fourth-tier groupset. It sits beneath Dura-Ace, Ultegra, and 105. Shimano introduces its newest and best features first on Dura-Ace, then these advances trickle down through the ranges. Now, features first seen at the top have made their way onto this very affordable groupset.
Tiagra is an impressive groupset. To get this level of performance, finish and attention to detail on such an affordable groupset is hugely impressive.
Buy Shimano Groupset : Tiagra if you want good value and performance, and don't mind not having 11-speed
Shimano 105 5800 – Performance Shimano Groupset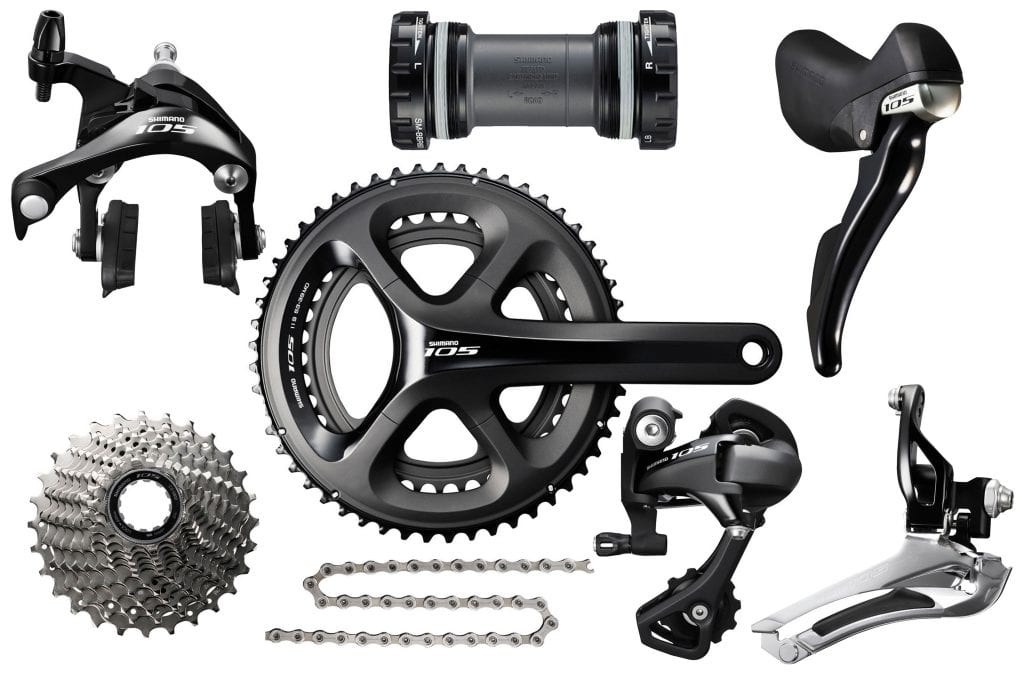 Shimano 105 is the most affordable performance-focused groupset and comes on many mid-market road bikes.
This 11-speed group is considered by many riders to be the best combination of performance, durability, and value.
Complete groupsets seem to have run out, but there are still plenty of components from the previous version of 105 in the shops and they're excellent value for money.
Buy Shimano Groupset : 105 if you want the most affordable 11-speed groupset
Shimano 105 R7000 – Performance Shimano Groupset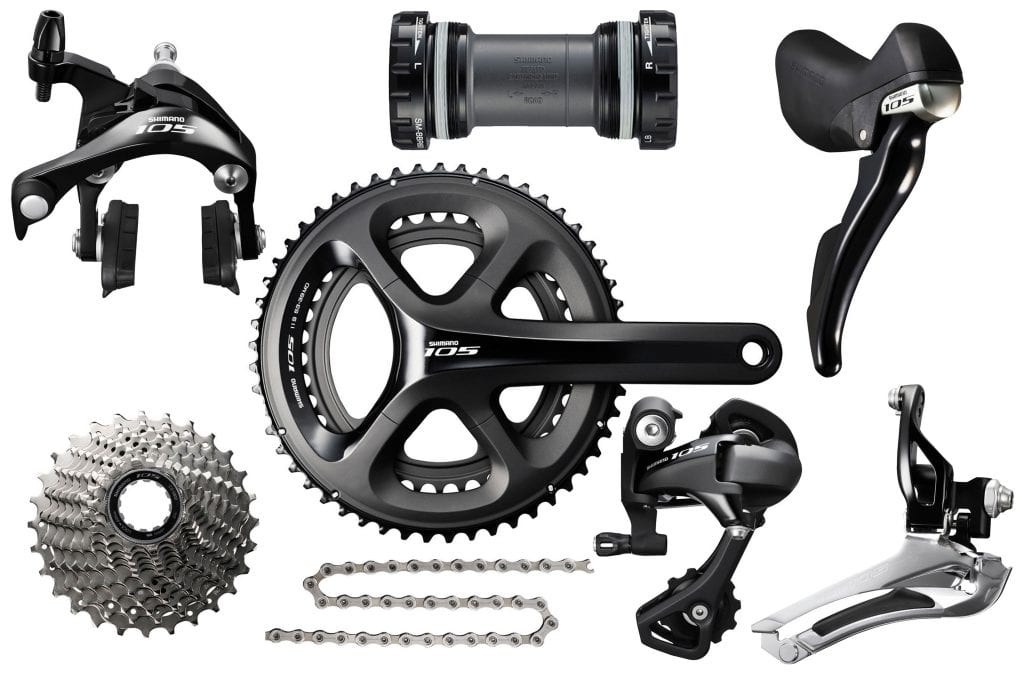 Shimano 105 R7000 is a very good looking groupset, but more than that, it's an excellent performance groupset for the money. It's a bit heavier than Dura-Ace and Ultegra, but the performance runs both very close, with good shifting and braking.
The big news in braking is that 105 R7000 gets its hydraulic disc brakes and levers rather than having to make do with brakes that were 105 quality but lacked the logos and styling of the rest of the group. A disc-braked 105-equipped bike will now look 'of a piece' as it were.
Buy Shimano Groupset :105 R7000 if you want the latest version of the most affordable 11-speed groupset.
Our Shimano 105 R7000 Groupsets Products
Shimano Ultegra 6800 – Performance Shimano Groupset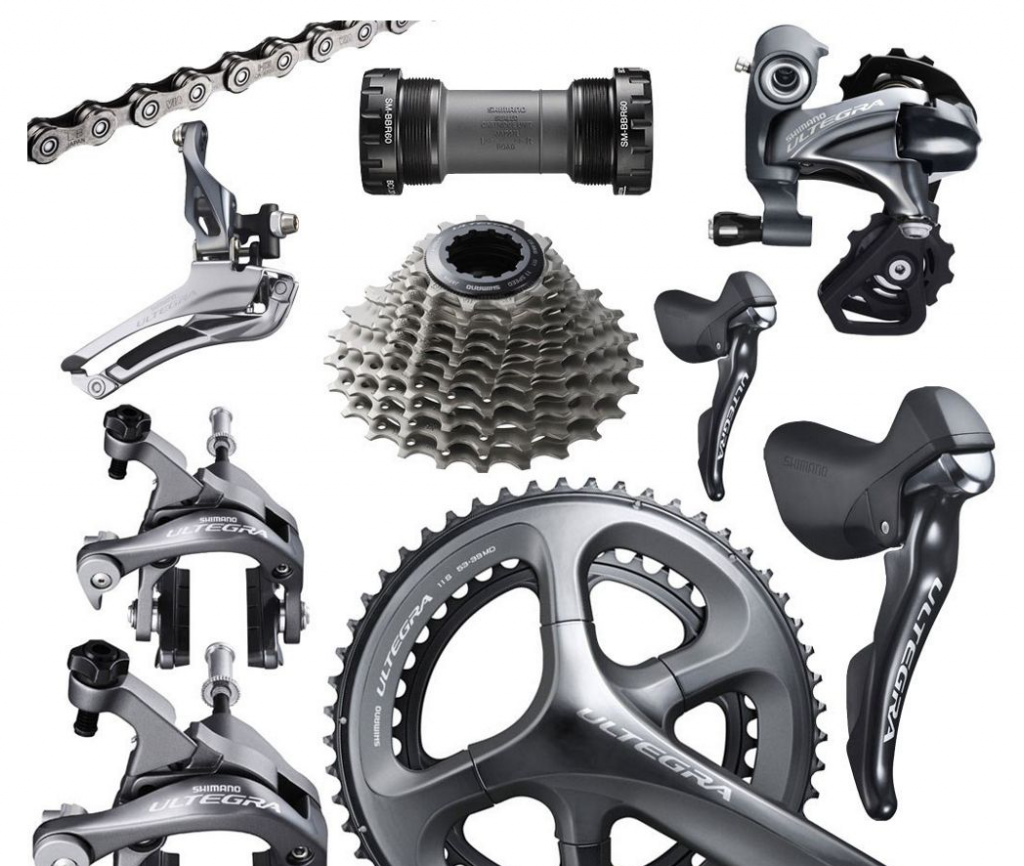 Ultegra 6800 was functionally very similar to the current R8000, though not quite as versatile. Complete groupsets are now very hard to find, but there are plenty of individual components still around.
This generation of Ultegra saw a new chainset that uses the same spider design as Dura-Ace and dropped the previous difference between the spider sizes for racing and recreational chainsets. That made changing rings easy, so you could easily swap rings from racing to riding in the mountains without removing the cranks. The rear derailleur came in short- and mid-cage lengths and can work with up to a 32-tooth sprocket on a wide-range cassette. Cassette options range from 11-23 right up to 11-32, with plenty of options in between the two extremes.
Shimano Ultegra 6870 Di2 – Performance Shimano Groupset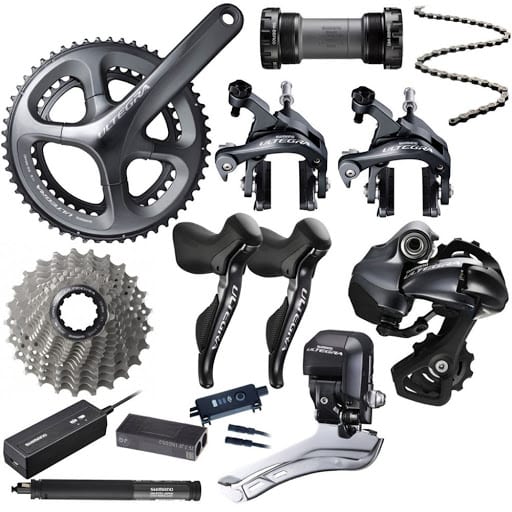 Slick shifting, flawless performance in all conditions and situations, lighter and improved ergonomics make Shimano's latest Ultegra Di2 6870 11-speed groupset the best yet. With all the performance of Dura-Ace at half the price and with a weight penalty that only weight weenies could worry about, Ultegra Di2 steals the show.
Ultegra Di2 6870 combines newly designed dual control levers and smaller, lighter, derailleurs, and a new internal seat post battery, and uses the same chainset and caliper brakes as the mechanical Ultegra 6800 groupset. Ultegra Di2 is also available with Shimano's latest hydraulic disc brakes
Shimano Ultegra R8050 Di2 – Performance Shimano Groupset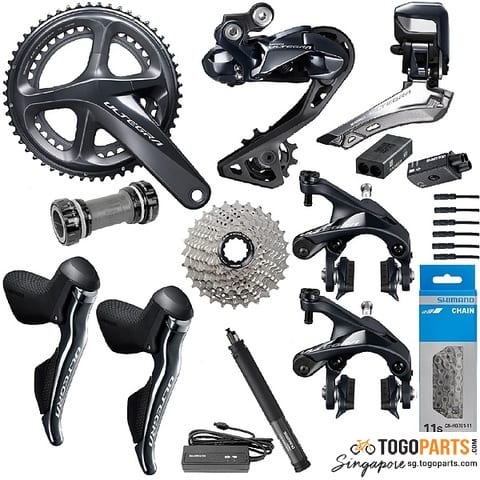 Shimano announced the latest version of its number two groupset in June 2017; both mechanical and electronic versions are now widely available and appearing on bikes.
If you want high performance without the hefty price tag of Dura-Ace, then Ultegra is probably the pick of the range. Since the 6800 updates, the gap between the two has been narrowed, and the R8000 incarnation looks an awful lot like the current version of Dura-Ace too. Ultegra shouldn't be overlooked too quickly if you want high performance and decent weight components.
Dura-Ace is aimed at racing bikes, making Ultegra a more versatile groupset. With a range of chaining and cassette options, it can be fitted to all sorts of bikes, from racing cycles to touring and adventure bikes. From an 11-23t cassette and 53/39t chain-set for the racers to an 11-34t cassette and 50/34t compact chain-set for sportive riders, it covers a lot of uses.
Buy Shimano Groupset : Ultegra if you want performance without the price tag of Dura-Ace.
Shimano Ultegra R8000 – Performance Shimano Groupset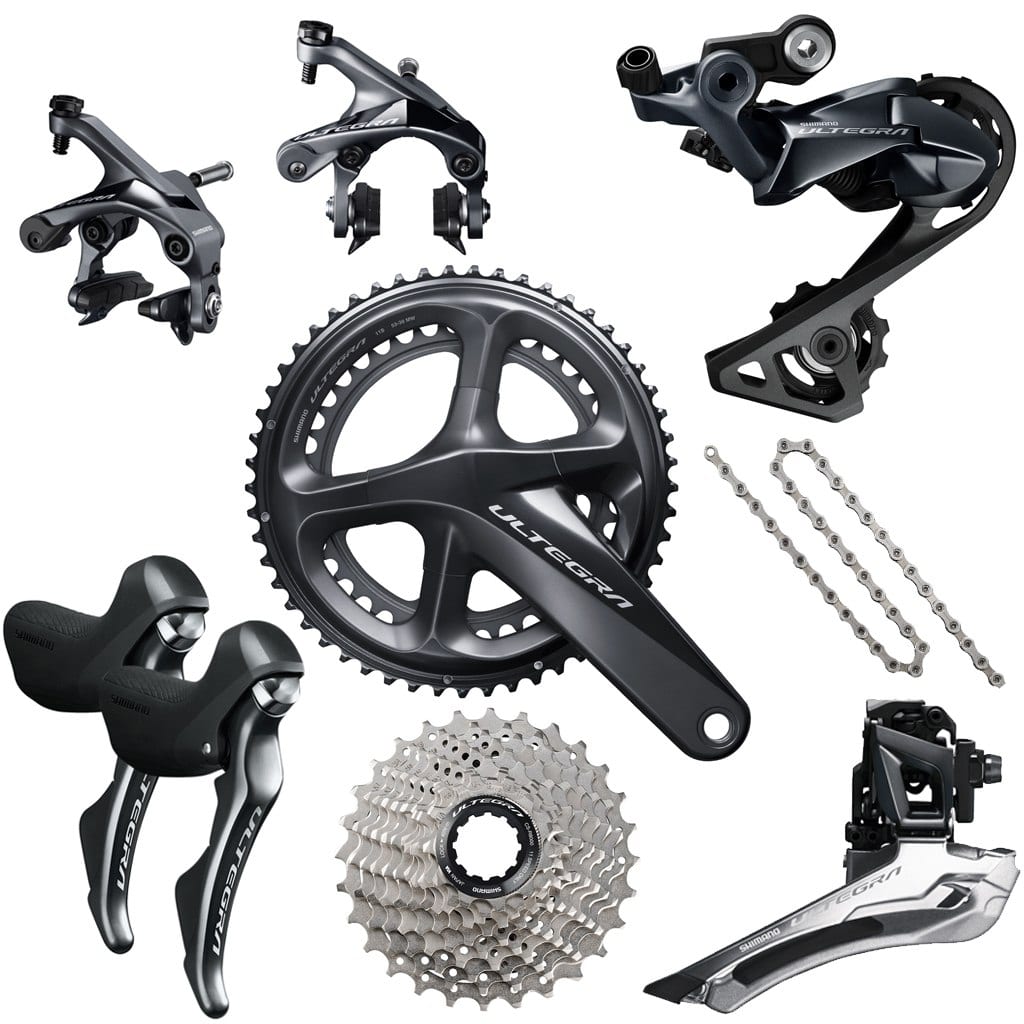 Shimano Ultegra is consistently considered to be the thrifty racer's choice, carrying much of the performance of Dura-Ace, with a reduced price tag.
However, a few of the changes made with the newest creation also make Ultegra a better choice for those looking to tackle gravel and mixed terrain.
The hoods have been slimmed down, and now have a grippy pattern (like Dura-Ace), and the dérailleurs have received a similar treatment to new Dura-Ace, promising smoother gear changes.
The overall weight has increased slightly on the outgoing Ultegra 6800, but Shimano promises better shifting and stiffness.
Buy Shimano Groupset : Ultegra if you want performance without the price of Dura-Ace
Shimano Dura-Ace 9100 - Pro-level Shimano Groupset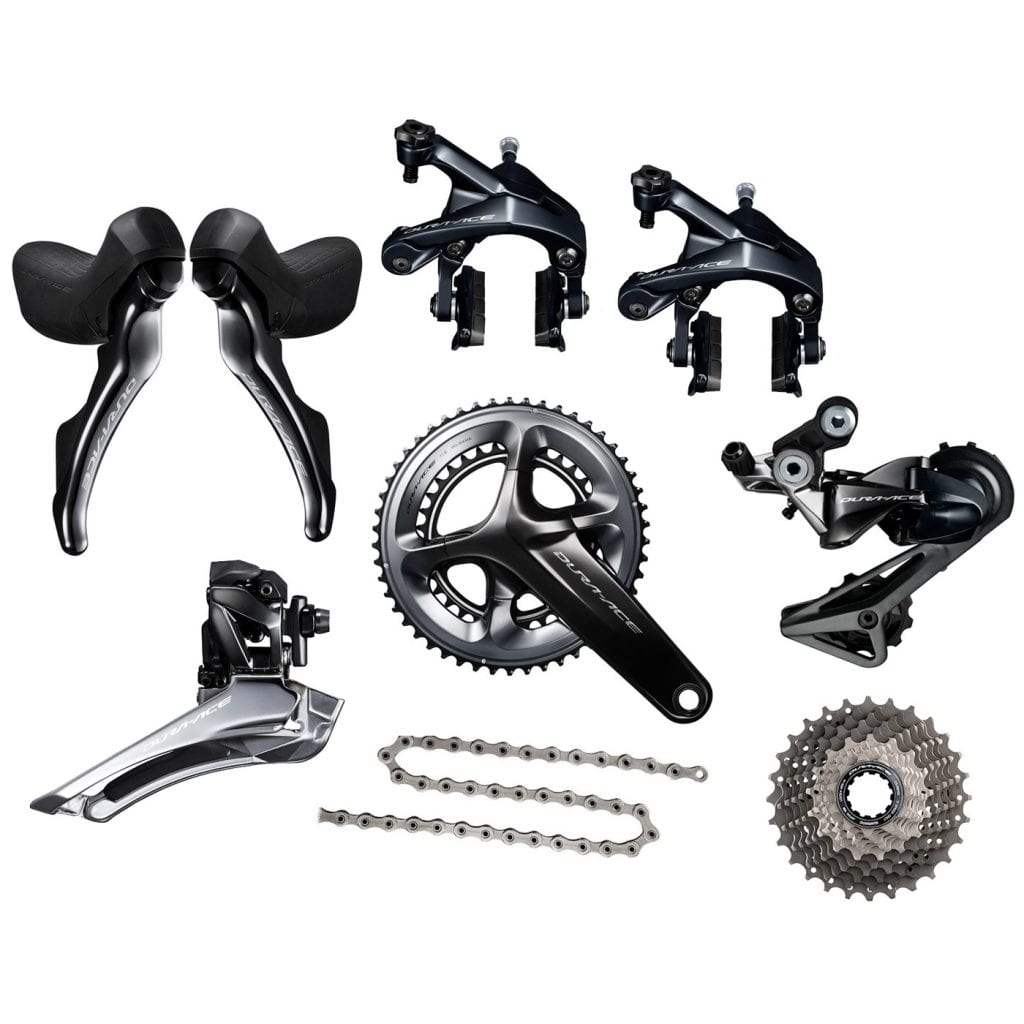 If your budget won't stretch to the electronic version of Dura-Ace, the mechanical version is by no means second best — it's still a superb ensemble. The 9100 group offers perhaps the widest range of options Shimano has ever offered in road bike components, including a power meter, hydraulic disc brakes, a wider gear range, and an increased selection of wheels.
With the 9100 group, Shimano adds a very tidy power meter to its collection.The inclusion of hydraulic disc brakes in the Dura-Ace line shows how completely Shimano has embraced road bike discs. Previously Dura-Ace equipped bikes with discs had to use Shimano's non-series brakes and levers; now they match.If you're using rim brakes, the 9100 Dura-Ace calipers have been subtly redesigned so they'll accommodate 28mm tires.
Finally, there's a big range of wheels in the latest Dura-Ace line-up. The new C40 and C60 wheels have 28mm wide carbon fiber rims that are 40mm and 60mm deep, respectively.
Buy Shimano Groupset : Dura-Ace if you're racing or doing mega distances and you want the best mechanical shifting.
Shimano Dura-Ace 9150 Di2 – Pro level Shimano Groupset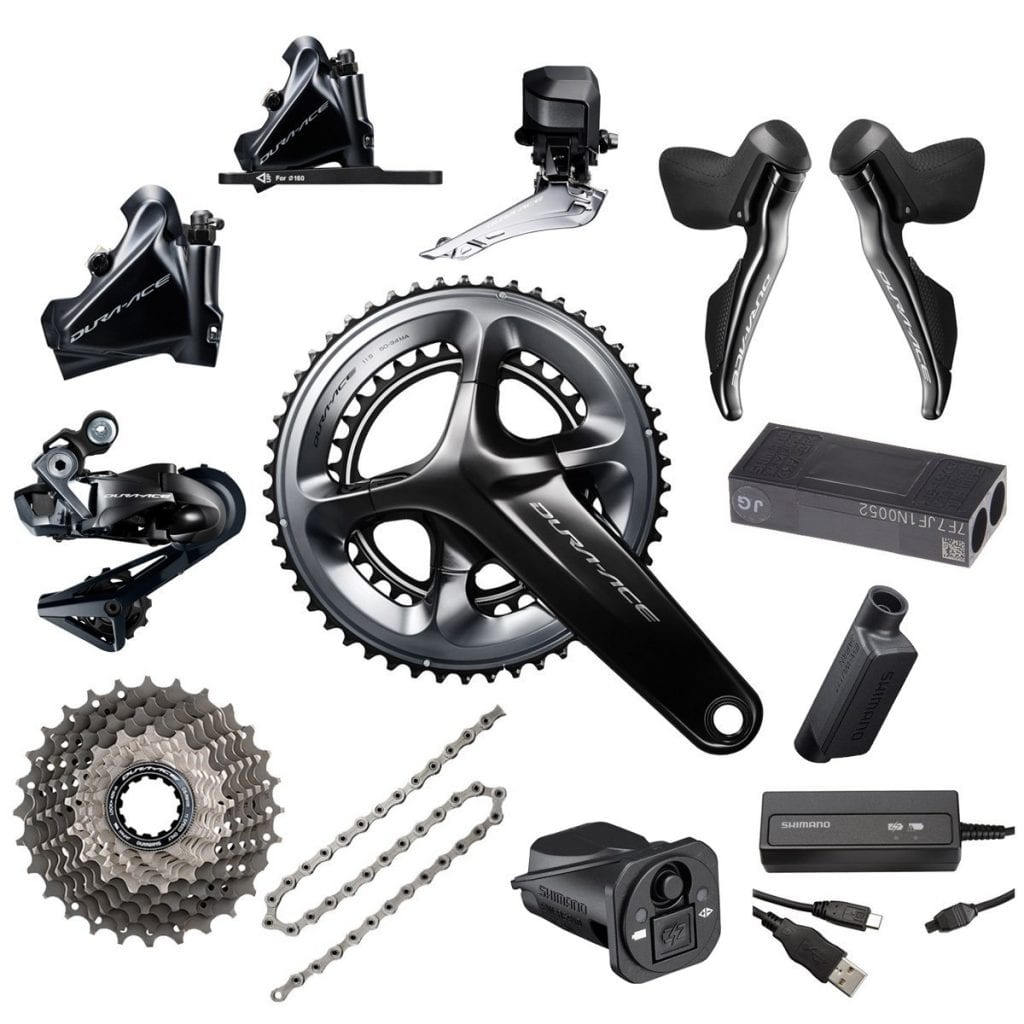 Shimano's flagship component group gets a major facelift and some new options. The mechanical and Di2 electronic groups share the same chainset, brakes, and other non-shifting components, but with Di2 you get switches on the brake levers, derailleurs with built-in motors, and the battery, wiring, and control box that ties it all together.
The major new feature of Di2 is Synchronized Shift, a technology borrowed from Shimano's mountain bike Di2 components. Rather than buttons controlling the front and rear derailleurs independently, one pair of buttons moves up and down the gear ratios, making shifts at the front or rear derailleur, or both, as necessary.
There are two modes. If you go for the Full Shimano Synchronized Shift, the front derailleur reacts based on the rear derailleur's shift action. You don't need to use two separate shifters, you just use one. Press one button and the gear will get harder to turn, press the other button and the gear will get easier. If that requires a front shift, the system will take care of that automatically; you don't need to worry about it.
If you go for Semi Shimano Synchronized Shift mode: the rear derailleur reacts based on the front derailleur's shift action, shifting to the next most appropriate rear gear when the rider makes a front shift.
Buy Shimano Groupset : Dura-Ace Di2 if you want the state of the Shimano art.