Sale!
VOLCK Marl 6 Carbon Fiber Mountain Bike | Shimano Deore M6100 | Free Shipping & Assemble | 5 Years Warranty
$1,199.00 – $1,299.00
In-Stock | Super Sales
Volck Marl 6 is a professional-level choice of carbon fiber mountain bike. The weight is only 12.4kg, lighter than Volck Marl 2, equipped with 27.5″/29″ tires and the popular 12 Speed SHIMANO Deore M6100 on Right Shifter, Rear Derailleur, Bottom Bracket, Chain, and SHIMANO MT200 Hydraulic Brake.
Frame, handlebar, and seat post are made by Japan Toray T700 Carbon Fiber. Uniquely strong and light, better corrosion resistance, and toughness. Fully internal cable routing ensures clean airflow over the entire bike.
The SHIMANO Deore M6100 12s and Alloy Hydraulic Air Suspension Fork provide comfortable smooth riding control with sharp shifting, highly tunable springs, and a stable chain. While remaining lightweight and sturdy, it can soak up heavy shocks when riding on tough terrain.
Description





Carbon MTB, Shimano Deore, Hydraulic Disc Brake
Volck Marl 6 is a professional-level choice of carbon fiber mountain bicycle in Singapore. Designed for cycling enthusiasts and professional-level riders, the Marl 6 is pre-equipped with parts that are hand-picked by their team for professional cyclists. With the Shimano 12-speed Deore M6100 combination, minimal effort is required to move off for advanced cycling.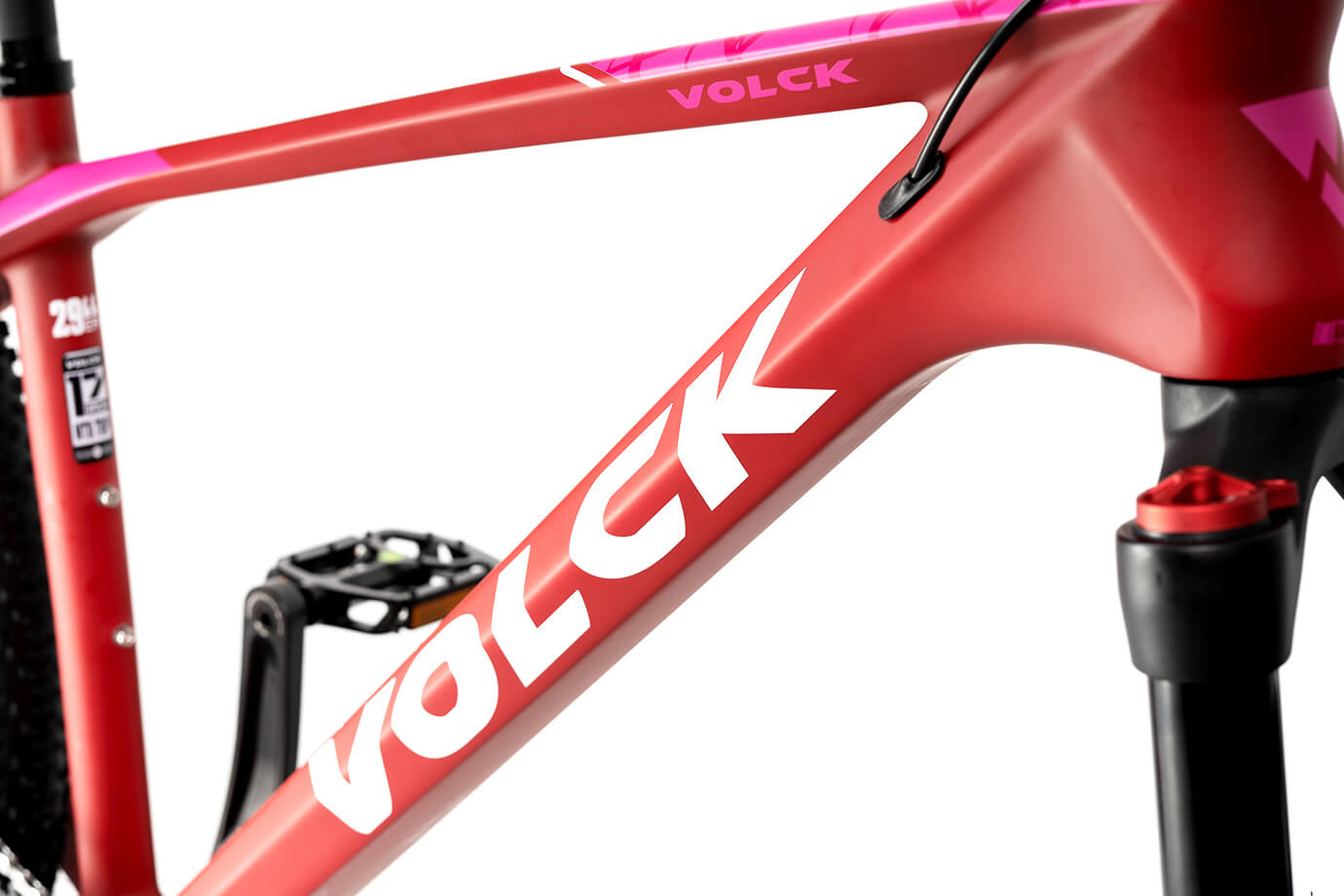 Coherent Visual Aesthetics, designed in Germany. High-Quality Enhances the toughness, withstands shock and vibration while remaining lightweight.
The large area of carbon fiber makes the vehicle lighter and more relaxed riding experience.
The weight of the entire vehicle is only about 12.4 kg and there will be weight differences due to manual measurement and  5% manufacturing tolerances.
Installed in right shift lever, rear derailleur, bottom bracket, and chain enables you to easily operate and start your riding effectively.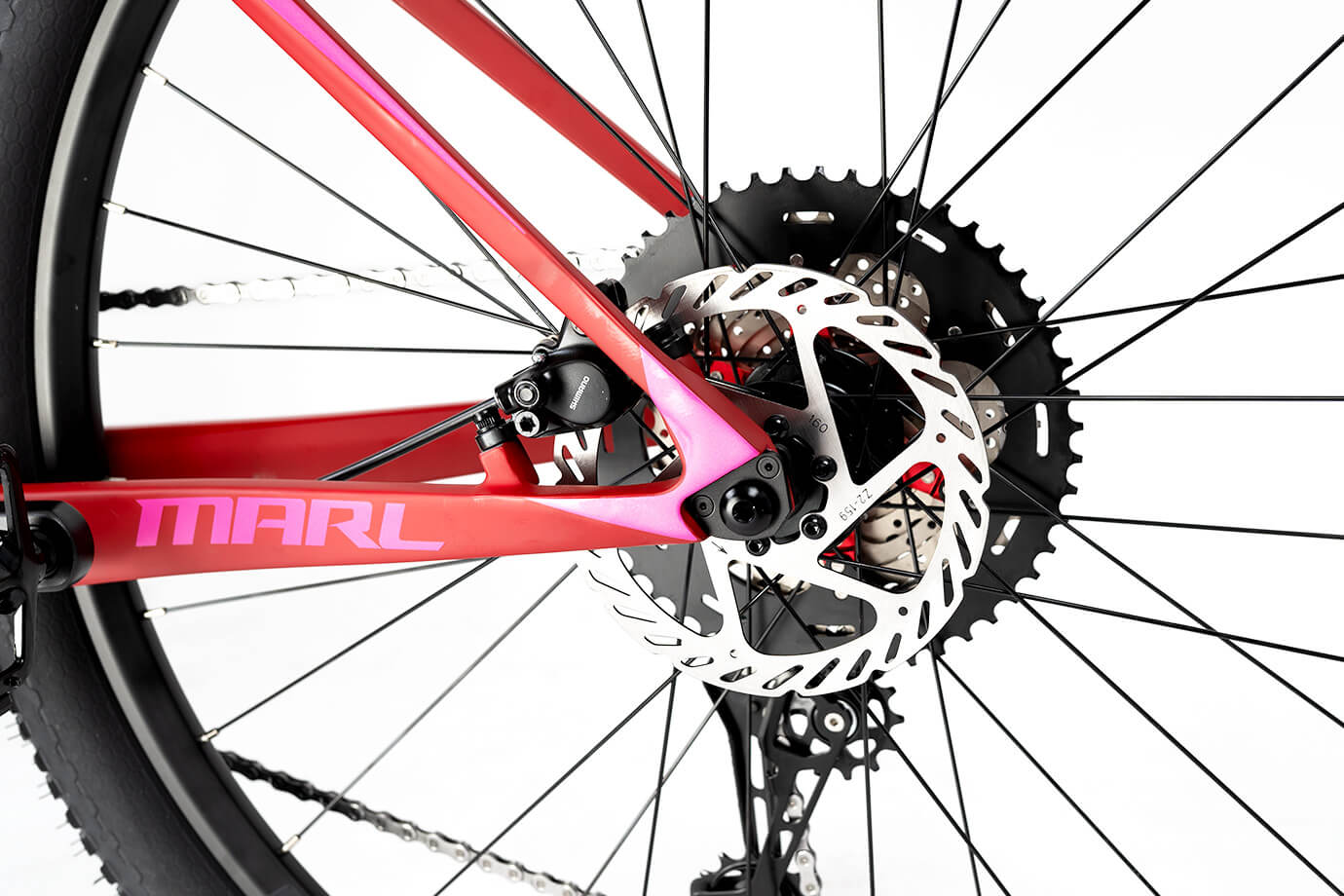 Shimano MT200 Hydraulic Brakes
Less pad rattling noise with a reliable brand and versatile design brake.
27.5"/29" * 2 Large Tires
A classic type of Competition tire used in cross-country races or marathons. Low rolling resistance, a voluminous carcass, and self-damping on the huge tire to hit top speed with lesser effort riding.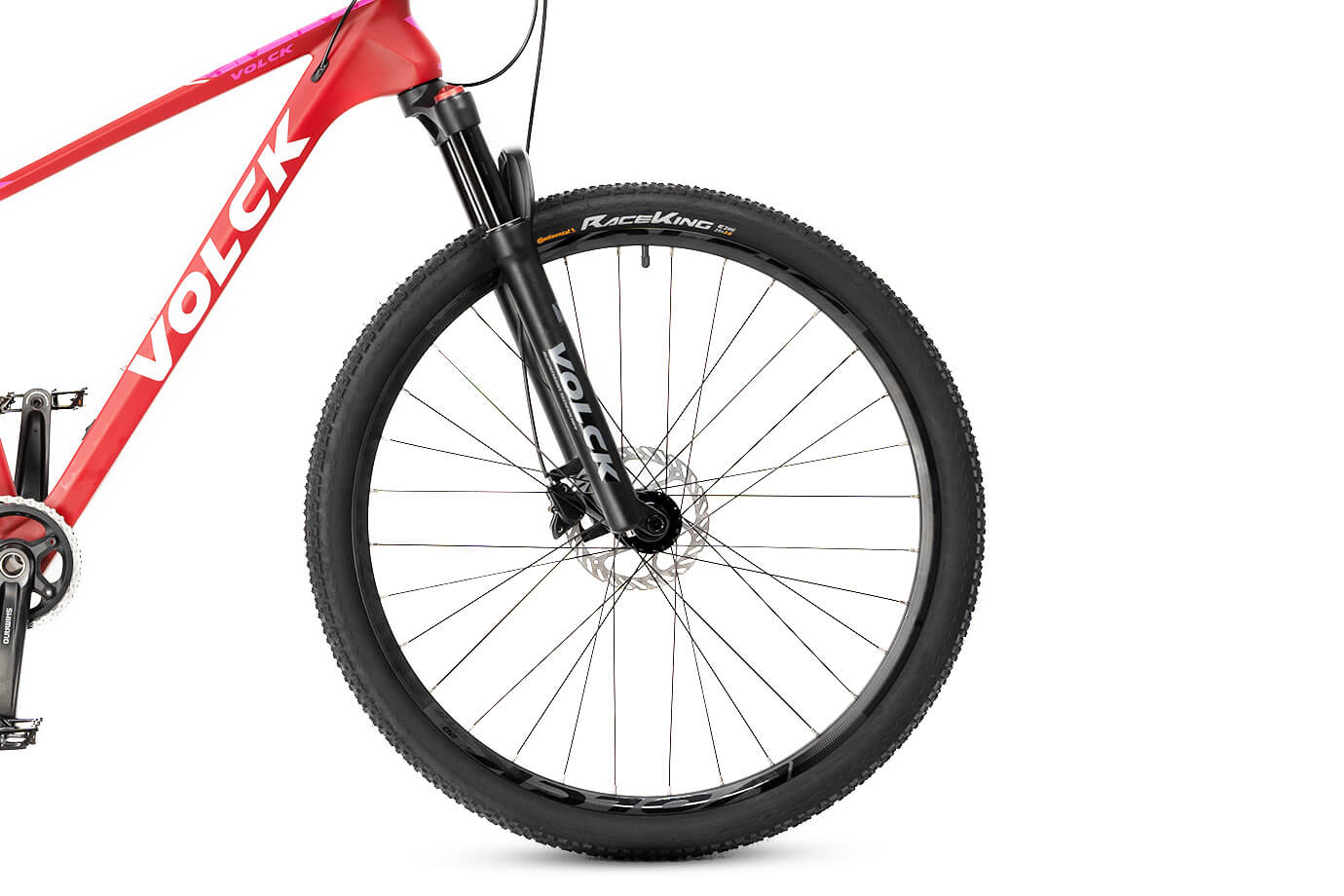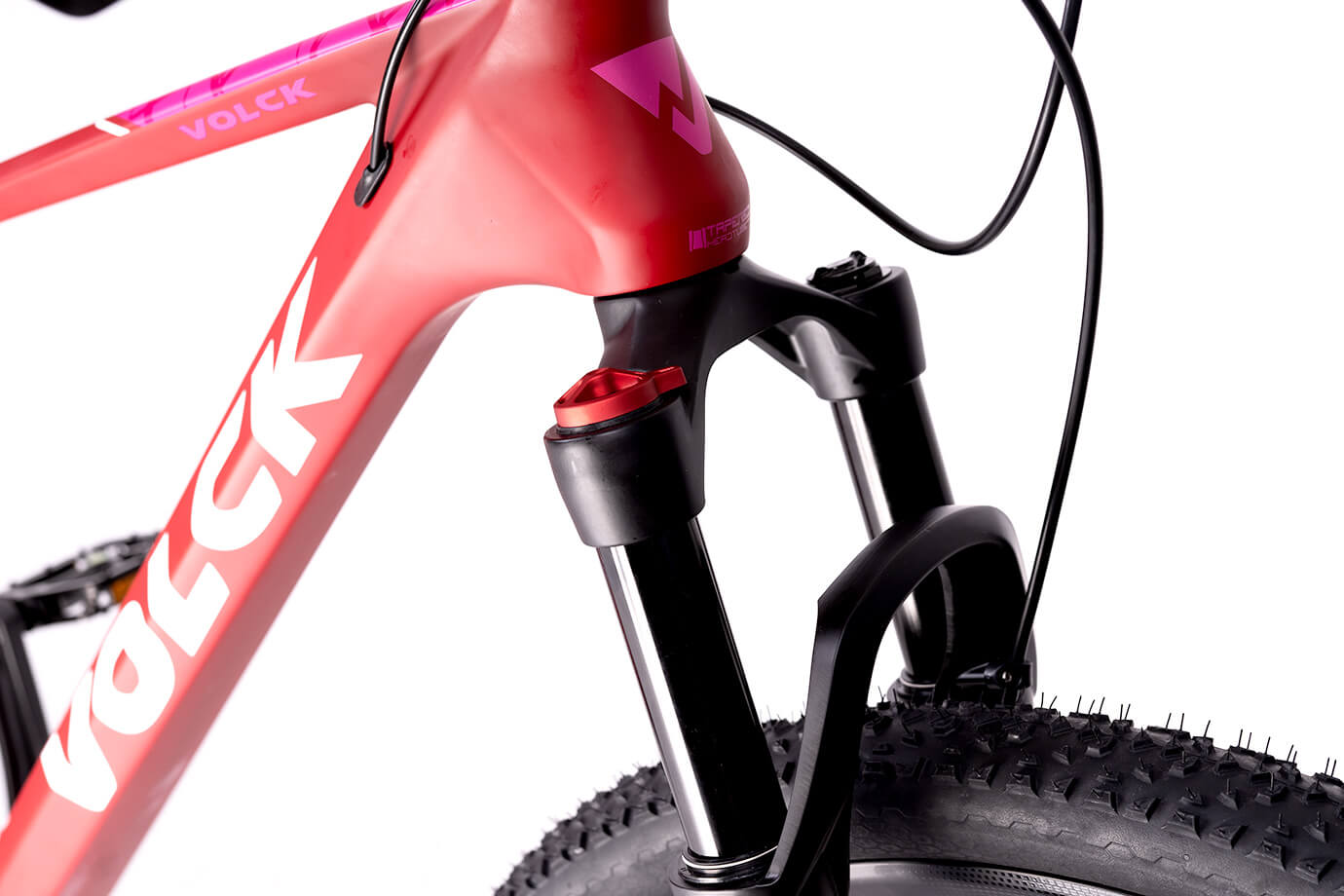 Alloy Hydraulic Air Suspension Fork
High tunable spring with light weight and sturdy design, gives a comfortable riding control to soak up heavy shock when riding on rough terrain.
Restful Seat for Longer Ride
Comfort, light, & high-quality seat with aerodynamic drag reduction.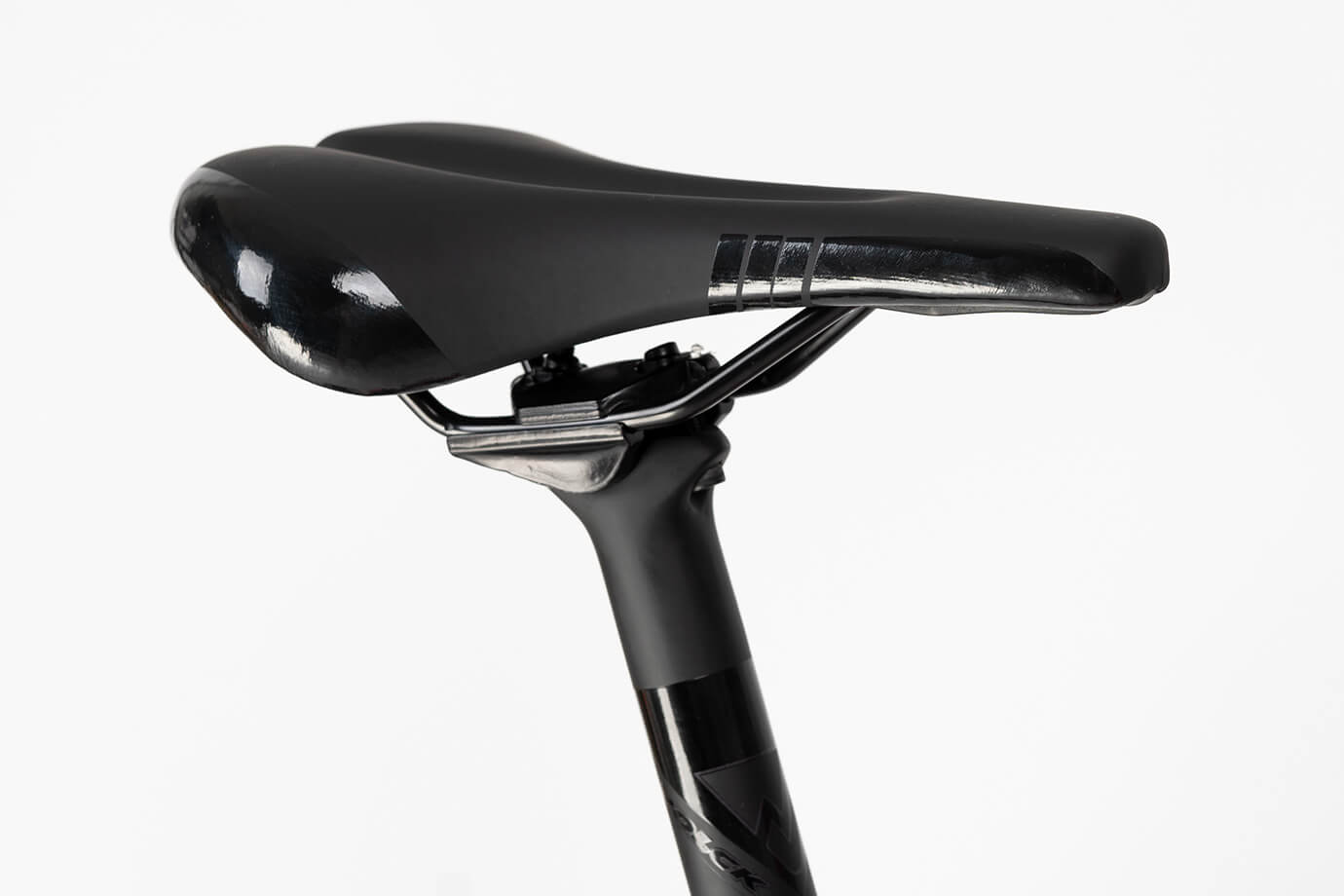 High Material Full Carbon

Frame Feature
A     Seat Post Length
B     Real Angle
C     Front Angle
D     Top Tube Length
E     Chain Stay Length
F     Front Centre
G     Bottom Bracket Drop
H     Head Tube Length
I      Reach
J     Fork Length
K     Fork Offset
L     Stack
| Size Classic | 27.5*15" | 27.5*17" | 27.5*19" | 29*17" | 29*19" |
| --- | --- | --- | --- | --- | --- |
| | | | | | |
| | | | | | |
| | | | | | |
| | | | | | |
| | | | | | |
| | | | | | |
| | | | | | |
| | | | | | |
| | | | | | |
| | | | | | |
| | | | | | |
| | | | | | |
Frame, Handlebar, and Seat Post

24.5/29" * 15" (S) / 17"(M) / 19"(L)

Frame-Body Carrying System

15/17/19" Carbon Frame Pressfit BB, Built-in cables

SYH 27.5/29" Air Alloy Hydraulic Lockout Travel 100L M15*110

Alloy SM-A102-8, 31.8 * 28.6 * 90 ± 7º, Sandblast Black

PO-GRIP-06 Straight Fibre Leather Hand-Sewn Grip

Carbon 31.6 * 350 mm, Sandblast Black

H373M/2861 1-1/8 28.6 * 41.8-52 * 39.8 Black

Derailleur / Brake System

SHIMANO DEORE SL-M6100, R/R: 12 Speed Rapidfire Plus 2400mm Inner

SHIMANO DEORE RD-M6100, Top Normal, Shadow Plus Design, SGS 12 Speed

SHIMANO ALTUS MT200, Rear Brake, 1450 mm

SHIMANO ALTUS MT200, Front Brake, 750 mm

Stainless Steel P0300 ¢160 SUS 410

SUNSHINE HR12-50A 12S 11-50T Black

SHIMANO DEORE M6100 FC-MT510-1 12 Speed, 2-PCS FC, 170mm, 34T W/O CG, W/O 52mm (Size 17/19) PROWHEEL MPX-CR094S-TT, 170mm, 34T (Size 15)

SHIMANO DEORE M6100 BB-MT500-PA

SHIMANO DEORE CN-M6100 118L HG 12-SPEED, W/QUICK-LINK

Alloy, LP-B829 9/16 Black, DU

Alloy 27.5/29 * 32H * 14G, W/O Rivet, Anodized Black

Two bearings 14G * 32H * M15 * 110 W/O LOGO

14G * 32H * M12 * 148 Black W/O LOGO

Continental Race King 27.5/29 * 2.0" 60TPI
Additional information
| | |
| --- | --- |
| Model | Marl 6 |
| Material | Carbon fiber |
| Carbon Fiber | Frame, Handlebar, Seat Post |
| Color | Matte Dark Red-White, Black/Grey |
| Speed Change | 12 Speed |
| Weight | 12.4 kg |
| Max Load | 120 kg |
| Suitable Height | 170 – 195 cm |
| Frame | 17"/19" Carbon Frame Pressfit BB, Built-in cables |
| Suspension | SYH 27.5 Air Alloy Hydraylic Lockout Travel 100L M15*110 Matt BK/ Grossy BK |
| Handlebar | Carbon 31.8*680mm |
| Handlebar Grip | PO-GRIP-06 Straight Fiber Leather Hand-Sewn Grip, W/O LOGO |
| Stem | Alloy SM-A102-8, 31.8*28.6*90±7º, Sandblast BK, W/laser LOGO |
| Saddle | YBT-1084 W/O logo |
| Seat Post | Carbon 31.6*350, Sandblast BK, W/laser LOGO |
| Headset | H373M/2861 1-1/8 28.6*41.8-52*39.8 Black |
| Left Shifter | No |
| Right Shifter | SHIMANO DEORE SL-M6100, R/R: 12 SPEED RAPIDFIRE PLUS 2400mm Inner |
| Front Derailleur | No |
| Rear Derailleur | SHIMANO DEORE RD-M6100, Top Normal, Shadow Plus Design, SGS 12-SPEED |
| Front Brake | SHIMANO ALTUS MT200, Left Hand Side, 750mm |
| Rear Brake | SHIMANO ALTUS MT200, Right Hand Side, 1450mm |
| Disk Brake | Stainless Steel P0300 ¢160 SUS 410 |
| Cassette Sprocket | SUNSHINE HR12-50A 12S 11-50T Black |
| Crankset | SHIMANO DEORE M6100 FC-MT510-1 12 SPEED, 2-PCS FC, 170mm, 34T W?O CG, W/O 52mm |
| Bottom Bracket | SHIMANO DEORE M6100 BB-MT500-PA |
| Chain | SHIMANO DEORE CN-M6100 118L HG 12-SPEED, W/QUICK-LINK |
| Pedals | LP-B829 9/16 Black |
| Rim | Alloy 27.5/29*32H*14G, W/O Rivet, Anodized BK |
| Front Hub | Two bearings 14G*32H*M15*110 W/O LOGO |
| Rear Hub | 14G*32H*M12*148 Black W/O LOGO |
| Tires | Continental Race King 27.5/29*2.0 60TPI |
| Package Size | 141 * 22 * 77 cm |