Sale!
Volck Syenite EXD Full Carbon Fiber Road Bike | Shimano Ultegra R8000 | Hydraulic Disc Brake | Free Shipping & Assemble | 5 Years Warranty
Pre-Orders Accepting | Limited Quantity
VOLCK Syenite EXD is a Hydraulic Disk Brake Full Carbon Fiber Road Bike. Stiff with only 8.5kg equipped with the professional-level set,  SHIMANO Ultegra R8000 2*11 Speeds Shifter & brake lever, brake caliper, derailleur system, Cassette Sprocket, Crankset and Bottom Bracket.
SHIMANO Ultegra R8000 and Hydraulic Brake enable you to operate your ride effectively, smoothly shifting, and durable. Also will empower more riders than ever before to embrace the sport of road cycling.
The frame, fork, rim, handlebar, and seat post are made by Japan Toray T700 Carbon Fiber and aerodynamic contours. Fully internal cable routing ensures clean airflow over the entire bike. The tapered head tube strengthens the torsion rigidity and gives riders better handling.
Noted: Please consider due to high demand, limited stock is available for order. Orders accepting on a first come first serve basis.
Description





Full Carbon, Hydraulic Disc Brake, Road Bike
Syenite EXD built with a carbon fiber integrated frame with a brake internal routing design. The bicycle's appearance is simply aesthetic and the weight of the bicycle is about 8.5 kg. The 700x28C tires are the ultimate choice for road riders who want more volume for training or competition. With the help of the Shimano Ultegra R8000 22-speed, minimal effort is required to move off. Are you ready for a ride? VOLCK Bicycles are our Best Carbon Fiber Road Bike choice.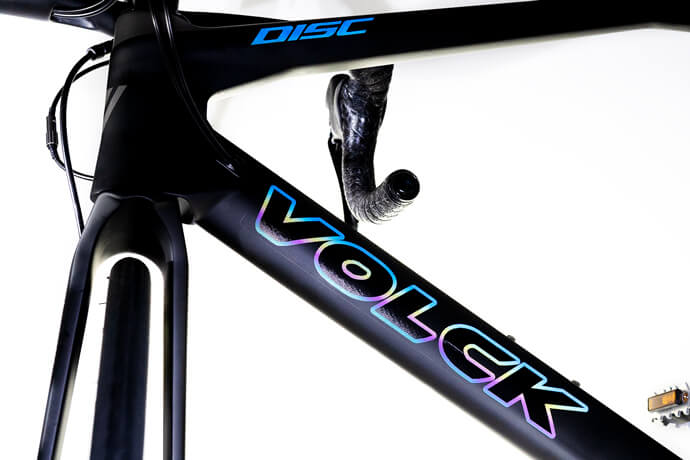 Never Enough Appearance For Me
Chameleon Colourful Effect
Special design in "VOLCK" logo in every angle, every light reflection.
Wires designed to be fully internally routed inside the frame, to prevent pear off and obstruct riders' cycling for a better experience.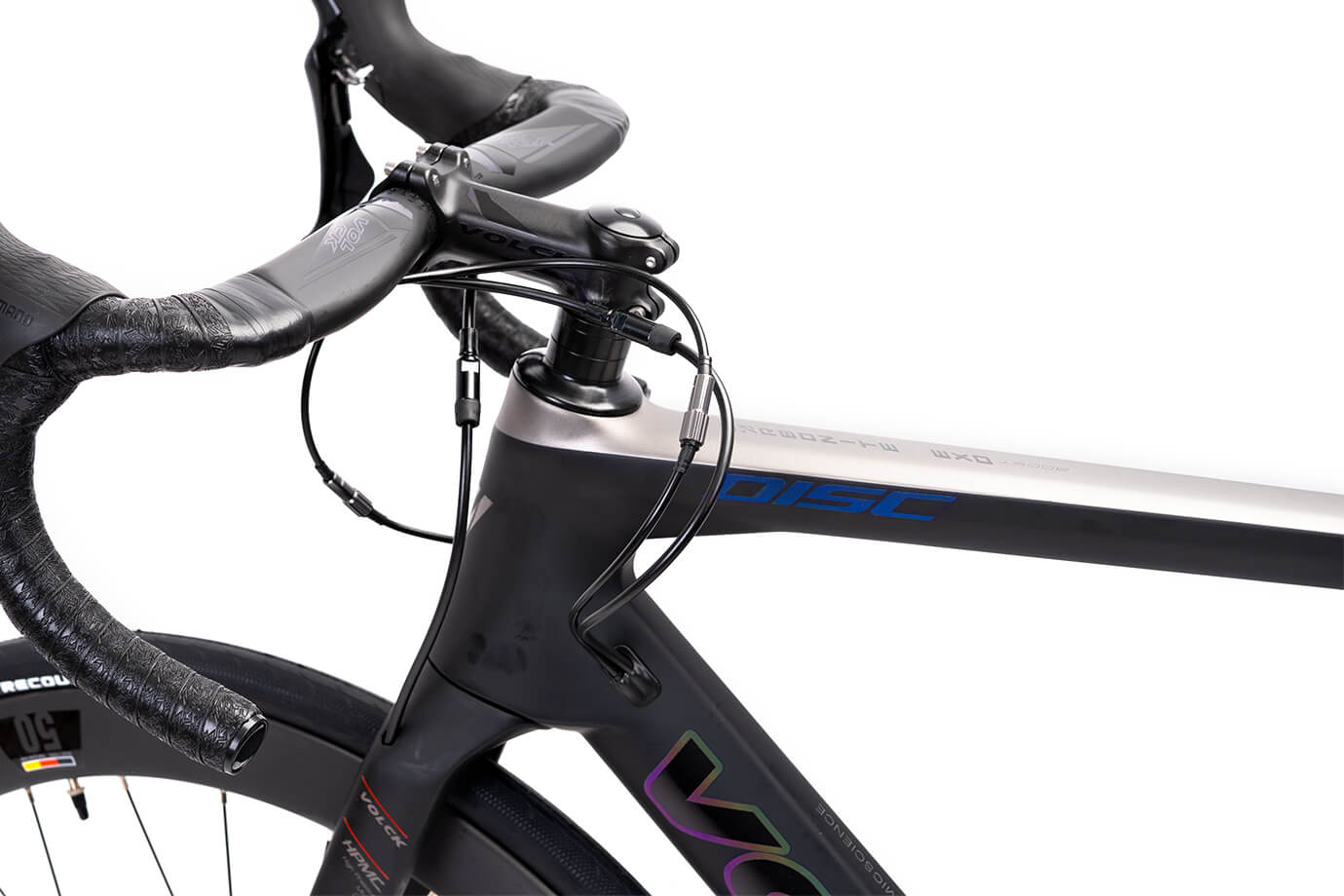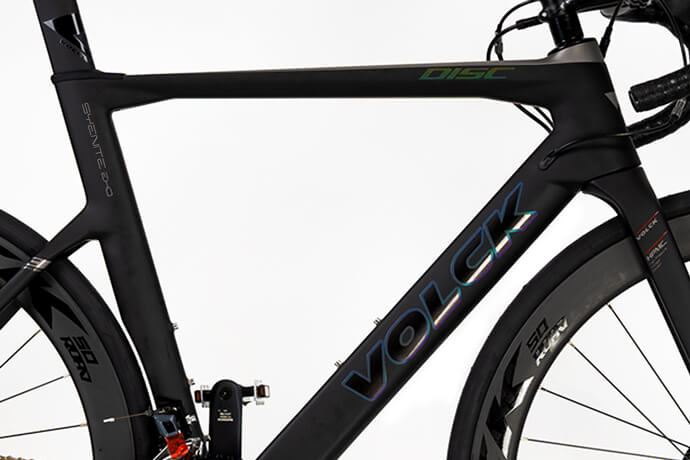 Coherent Visual Aesthetics, designed in Germany. High-Quality Enhances the toughness and withstands shock and vibration.
The large area of carbon fiber makes the vehicle lighter and more relaxed riding experience.
The weight of the entire vehicle is only about 8.5 kg and there will be weight differences due to manual measurement and  5% manufacturing tolerances.
Long Durable & Greater Saving
700x28C Tires with Carbon Rim
Light aerodynamic weight and great tire's tendency reduction. A stiff 60 TPI carbon wheelsets casing with EPS puncture layer to shave critical ounces protect you from flats and make positive cornering steering on your competition and training ride.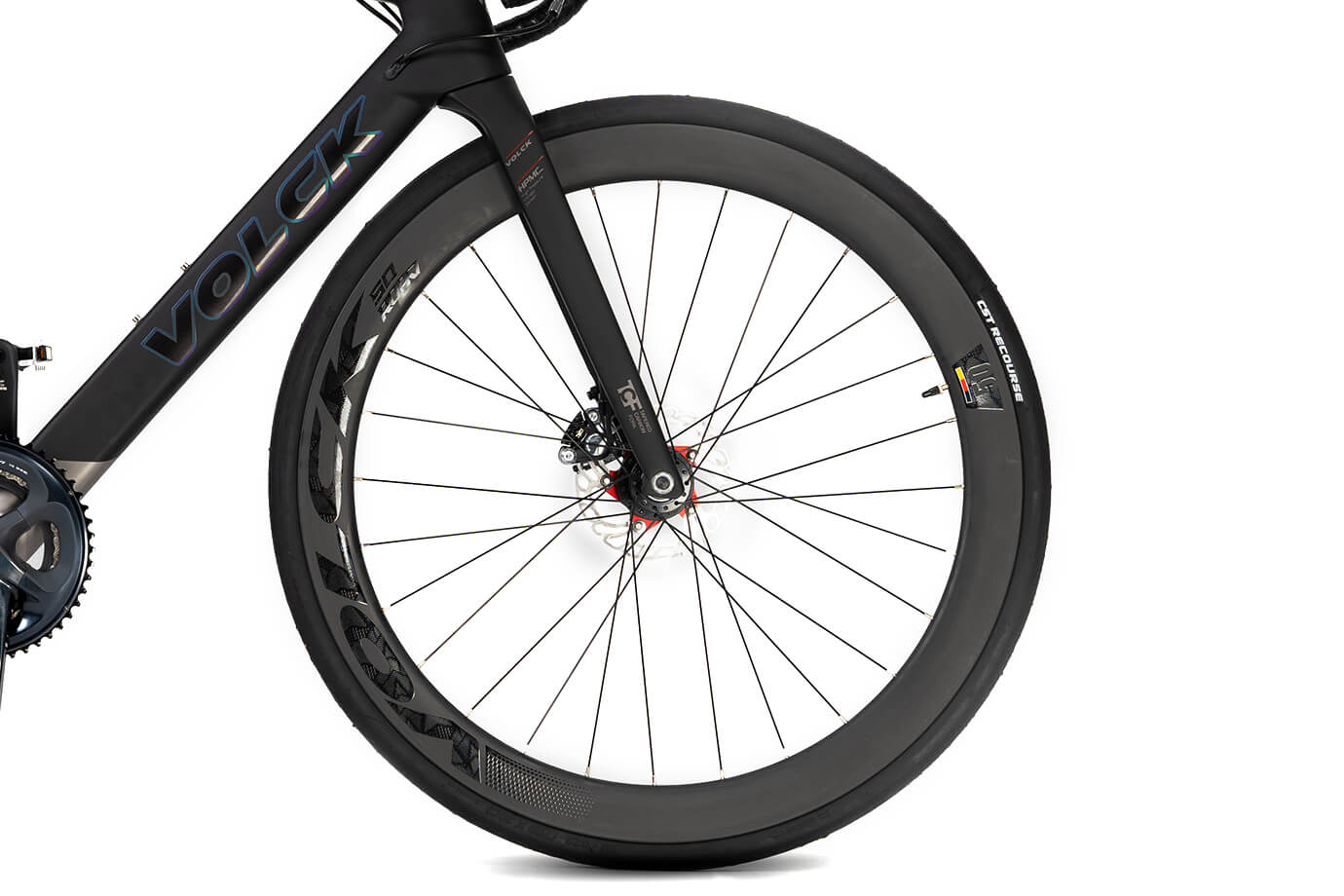 Smooth Start Riding Experience
SHIMANO Ultegra R8000 22s
Constitute in left & right shift with brake lever, front & rear derailleur, crankset, bottom bracket, and brake caliper.
Better Performance for Efficient Rides
SHIMANO Ultegra CS-R8000 11s
Designed to aim every rider a personalised solution with 14-28 tooth far-ranging options. Hyperglide shifting system enhanced for high-precision gear changes by HG-EV technology.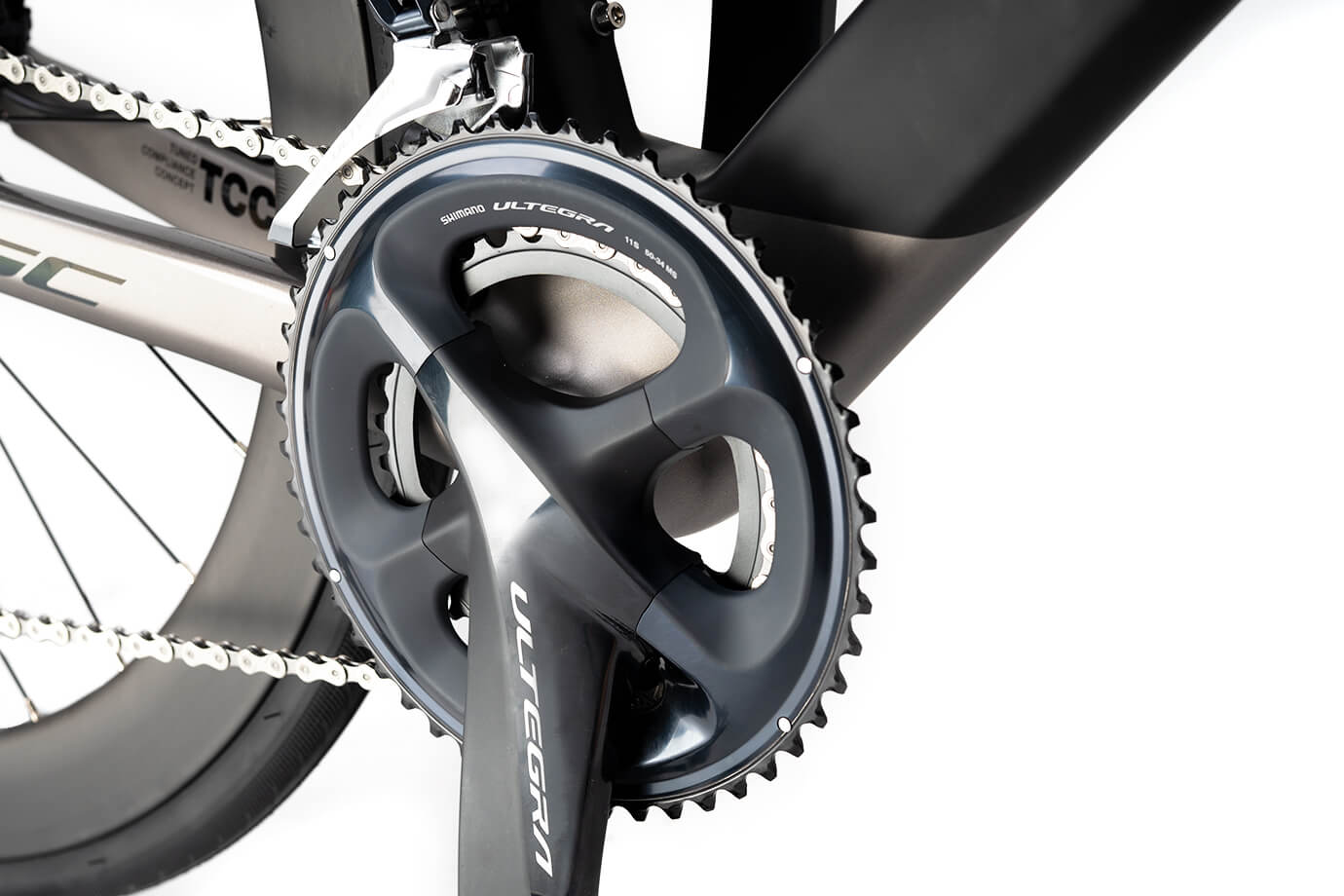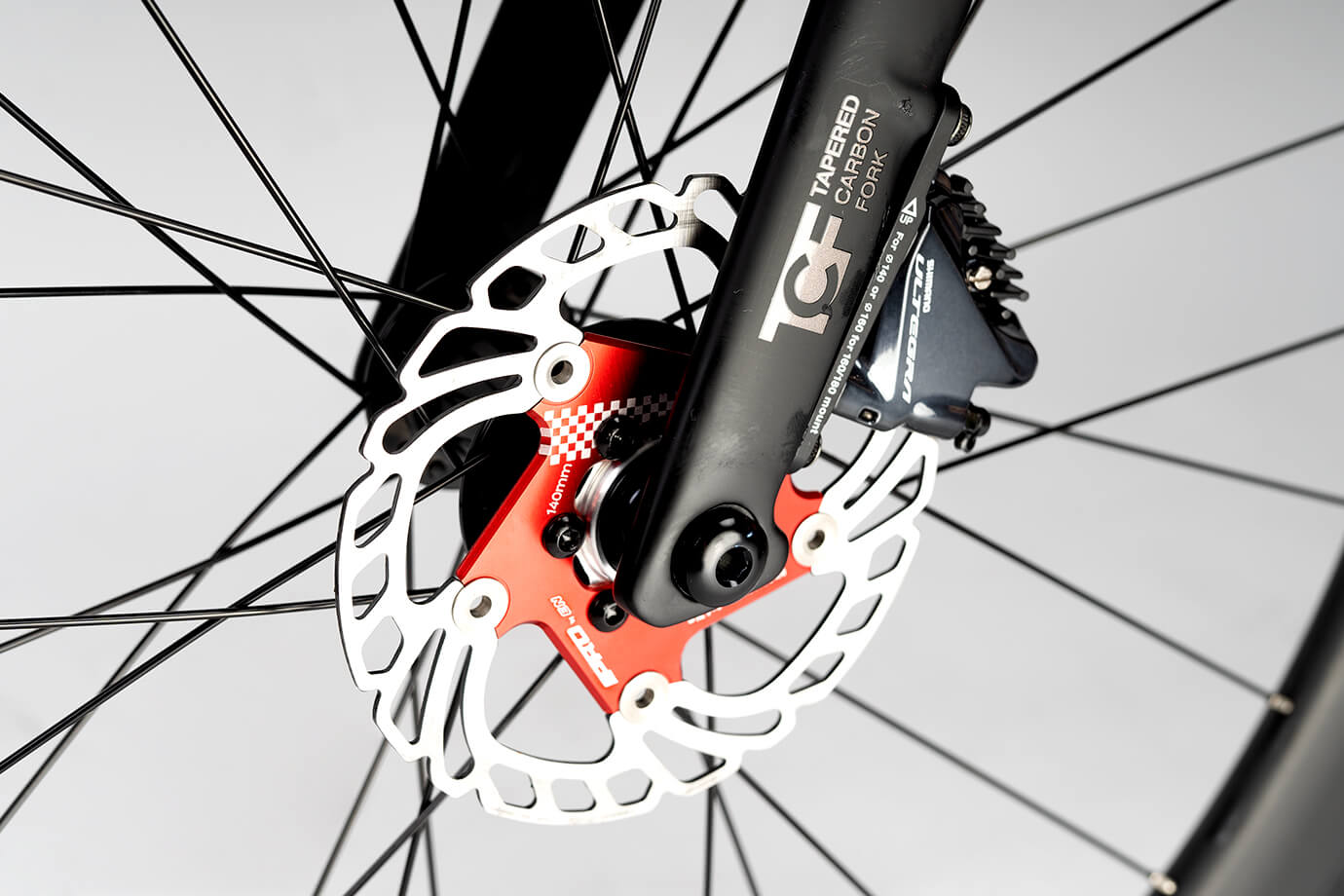 Faster Cooling Than Others
After the heat treatment process, the brake rotor increases special heat sink structure, and this seamless contact with the outer frame red colour center design.
Shimano Ultegra Hydraulic Disc Brake Caliper
The sleek integration seamlessly with a road bike's profile provides better condition control without interrupting the aero lines of road bikes.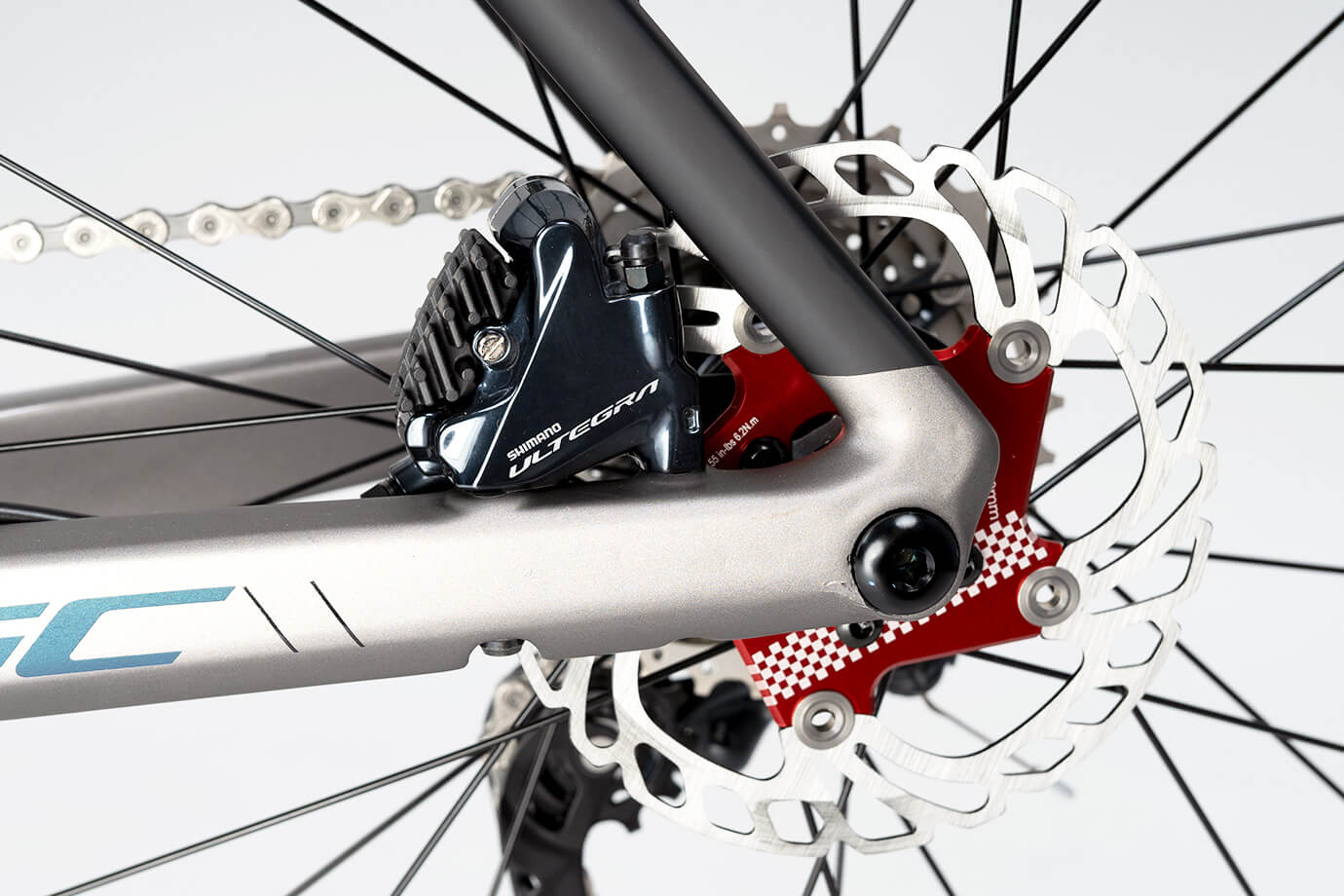 Restful Seat for Longer Ride
Design to reduce aerodynamic drag whilst remaining lightweight and comfortable in high quality material.
High Material Full Carbon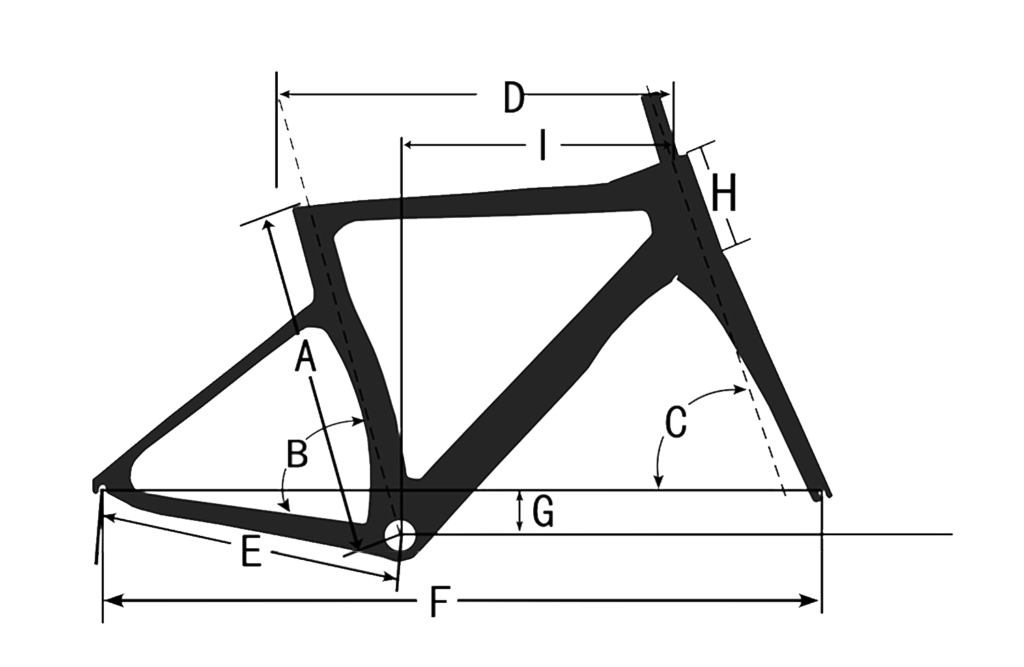 Frame Feature
A     Seat Post Length
B     Real Angle
C     Front Angle
D     Top Tube Length
E     Chain Stay Length
F     Wheel Base
G     BB System
H     Head Tube Length
I       Reach
| Size Classic | S - 470 | M - 510 | L - 520 | XL - 540 |
| --- | --- | --- | --- | --- |
| | | | | |
| | | | | |
| | | | | |
| | | | | |
| | | | | |
| | | | | |
| | | | | |
| | | | | |
| | | | | |
Frame, Handlebar, Seat Post, Fork and Rim

Frame-Body Carrying System

Carbon Frame T700 R08, Built-in cables

Carbon Fork T700 R08, M12 * 100 mm

Carbon T700 420L * 31.8, Black

Aluminum, SM-A92-8 31.8 * 28.6 * 100 28.6 ± 7° Black

SR F203URN17304 Fizik, Black

GH-540 Bearing 1-1/8" 28.6 * 47 * 47

Derailleur / Brake System

Left Shifter & Brake Lever

SHIMANO Ultegra ST-R8020-L, Dual Control, 2 * 11 Speed, Rear Brake

Right Shifter & Brake Lever

SHIMANO Ultegra ST-R8020-R, Dual Control, 11 Speed, Front Brake

SHIMANO Ultegra FD-R8000 (Brazed-On Mount) 2 * 11 Speed

SHIMANO Ultegra RD-R8000 GS, Medium Cage Rear Derailleur, 11 Speed

SHIMANO Ultegra Hydraulic Disc Brake Caliper

PRO, AR18, 140 mm, Red Center

SHIMANO Ultegra CS-R8000 11 Speed 11-32T

SHIMANO Ultegra FC-R8000 170MM, 50-34T

SHIMANO Ultegra SM-BBR60, HOLLOWTECH II - 68/70 mm, Bulk

LP-658A Alloy, 9/16" BR Black

Carbon 700C * 14G * 28H F/V, Width 25mm, H: 50mm UD

Two bearings, ED 14G * 28H M12 * 100

Two bearings, ED 14G * 28H M12 * 142

CST C1808 700x28C DK27 (60TPI)
Additional information
| | |
| --- | --- |
| Model | Syenite EXD |
| Material | Carbon fiber |
| Carbon Fiber | Frame, Handlebar, Seat Post |
| Color | Matte Black |
| Speed Change | 2*11 Speeds |
| Weight | 8.5 kg |
| Max Load | 120 kg |
| Suitable Height | 170 – 195 cm |
| Frame | Carbon Frame T700 R08, Built-in cables |
| Suspension | No |
| Handlebar | Carbon T700 420L * 31.8, Black |
| Stem | Aluminum, SM-A92-8 31.8 * 28.6 * 100 28.6 ± 7° Black |
| Saddle | Carbon T700 R08, 350 mm |
| Seat Post | Carbon 31.6*350, Sandblast BK, W/laser LOGO |
| Headset | H373M/2861 1-1/8 28.6*41.8-52*39.8 Black |
| Left Shifter & Brake Lever | SHIMANO Ultegra ST-R8020-L, Dual Control, 2 * 11 Speed, Rear Brake |
| Right Shifter & Brake Lever | SHIMANO Ultegra ST-R8020-R, Dual Control, 11 Speed, Front Brake |
| Front Derailleur | SHIMANO Ultegra FD-R8000 (Brazed-On Mount) 2 * 11 Speed |
| Rear Derailleur | SHIMANO Ultegra RD-R8000 GS, Medium Cage Rear Derailleur, 11 Speed |
| Cassette Sprocket | SHIMANO Ultegra CS-R8000 11 Speed 11-32T |
| Brake Caliper | SHIMANO Ultegra Hydraulic Disc Brake Caliper |
| Brake Rotor | PRO, AR18, 140 mm, Red Center |
| Crankset | SHIMANO Ultegra FC-R8000 170MM, 50-34T |
| Bottom Bracket | SHIMANO Ultegra SM-BBR60, HOLLOWTECH II – 68/70 mm, Bulk |
| Chain | KMC X11 108L |
| Pedals | LP-658A Alloy, 9/16" BR Black |
| Rim | Carbon 700C * 14G * 28H F/V, Width 25mm, H: 50mm UD |
| Front Hub | Two bearings, ED 14G * 28H M12 * 100 |
| Rear Hub | Two bearings, ED 14G * 28H M12 * 142 |
| Tires | CST C1808 700x28C DK27 (60TPI) |
| Package Size | 130 * 21 * 70 cm |