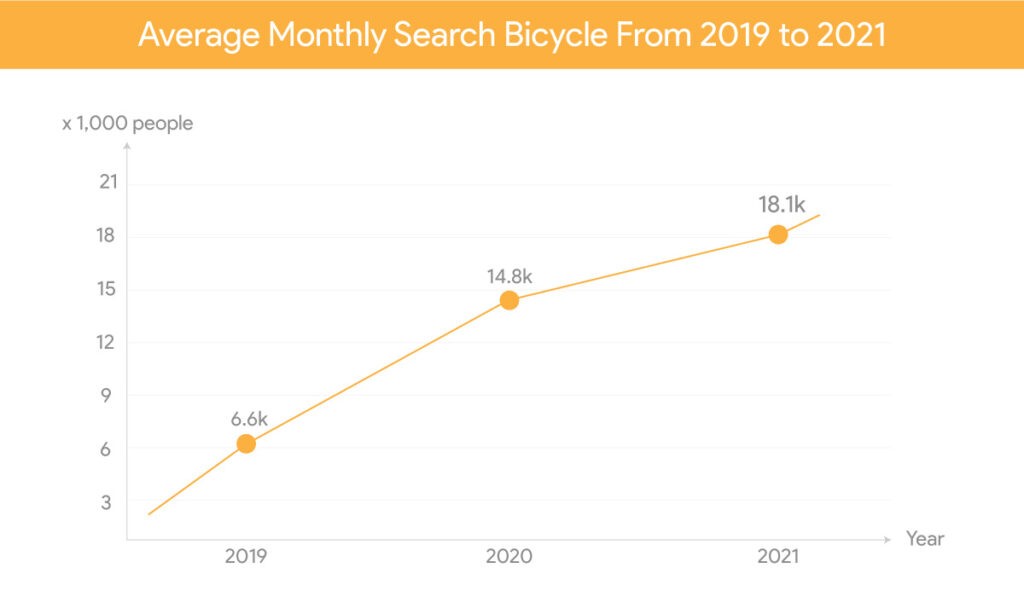 When people participate in health safety management measures during the Covid Pandemic period, Isolation and lockdown accidentally increase the advantages of cycling. Why are bicycle appearances more frequently in road paths? We gather perspective views to share with you.
During the Covid Pandemic period, people wanted to avoid social gatherings and eating in public sectors. They can choose to order food delivery online, which increases cycling activities.
While some people stay at home, they start to pay attention to the health of themself and their families. They would also spend more time going out walking and cycling.
In this article, we will share the cycling advantage and everything you need to know to cycle in the covid pandemic period.
Lockdown Accidentally Increase the Advantages of Cycling
Advantages of Cycling Exercise
According to experts, cycling can improve body functions, especially the lower body. It can strengthen muscles including the back muscles of the thighs and calves.
British handicapped cyclist Lora Fachie, 2016 Olympic Games gold medalist, said that cycling is a good way of cardiovascular exercise. Not only can help you burn calories, it is good for the heart and lungs, but it can also increase muscle strength and healthy joints.
In addition, cycling can also exercise core stability, including the muscles of the abdomen and back. Enhancing the strength of the core stability allows you to better support the spine, increasing stability and balance. It will also make cycling more comfortable.
Bicycles can also shorten the distance of travelling, which is environmentally friendly and labour-saving. Especially in the current epidemic, cycling can also help avoid public transportation and more safety.
The benefits of cycling are not only in physical health but also help to improve mental health. For example, regular cycling can improve sleep, insomnia, make people feel happier, stress relief, and anxiety relief.
Like any outdoor sport, cycling allows you to breathe fresh air and clear your mind, so it is good for your body and mind. Cycling in the countryside, you can enjoy the beautiful nature while riding, which makes people feel spiritually happy.
If you want to exercise by bike, but lack confidence, We suggest that you practice in uncrowded areas and corners riding slowly.
The information above is provided by SportSG Phase 2 Safe Management Measurement guidelines (August 2021).
Singapore is a really safe place for cycling. Cycling is an environmentally-friendly mode of transport that is increasingly popular, especially for short trips.
During the Covid-19 pandemic period, many gyms closed and many people stayed home for Isolation, lockdown, or safe management measures. Everyone knows that this lifestyle is bad for health. Perhaps because of this, there are more people choosing running and cycling in many places.
Do proper route planning to avoid uncrowded areas, and follow the latest regulations update to stay alert for keeping social distancing, and to avoid gathering.
In the mid-2020 covid pandemic period, the price of motorcycle licenses has increased by 70%. Many people have changed to be carriers or food delivery cycling.
With the ban on the use of e-scooters in November 2019, many people prefer cycling with bicycles and electrical bicycles. Bicycles and electrical bicycles are lighter weight than 20kg in the price range of one thousand dollars, which is cheaper than a ten thousand dollars motorcycle.
These situations made bicycles become hot selling transportation. Some bicycle industries have their electrical bicycles demand increased double or triple for every few months in the year 2020.
Due to the increase in the demand for bicycles, the materials cannot keep up with the demand. The price of bicycles on the market has increased significantly, but it does not affect people's desire to buy.
In conclusion, good bicycles are very worth spending money to buy. They would give us a healthy return in the long term. To improve your health, start by riding a bicycle.