Sale!
SAVA Z3 Single Arm Carbon Folding Bike | Shimano Sora | Free Shipping & Assemble | 5 Years Warranty
In-Stock | Super Sales

When all the bicycle fans are so indulged with the folding bike, the SAVA now brings you the all-new 3 folding mechanics design – Z3 Carbon Single Arm Folding Bike.
This dream-like folding bicycle has been designed for one year and finally launched at the end of 2020. Minimotors are so proud to share with our fans.
The first 3 folding single-arm bikes and only 10.6 kg in the world. Other than that, it comes with a very user-friendly design. And also as you know Shimano Sora R3000 is a common group set in SAVA brands. 
Description





The Lightest 3 Folding Bike In The World
SAVA Z3 Single Arm Carbon Folding Bike
When all the bicycle fans are so indulged with the folding bike, the SAVA now brings you the new folding carbon bike. This dream-like folding bicycle has been designed for 1 year and finally launched at the end of 2020.
What you want, what we have. Carbon, Shimano, the lightness in the world, large wheel, and new foldable mechanics design all in SAVA Z3. Minimotors are so proud to share with our fans.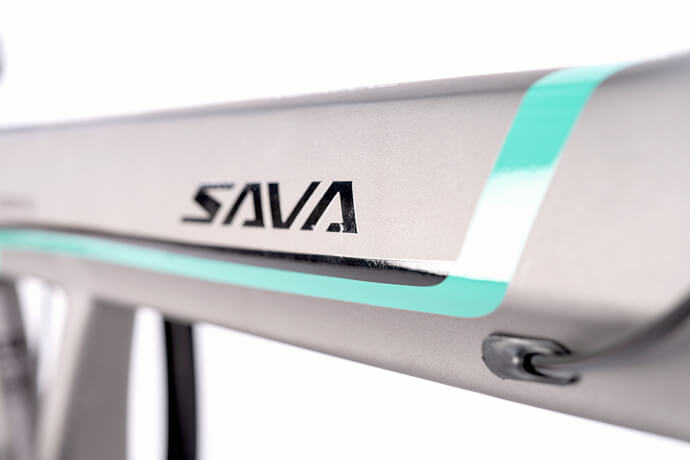 Lightest & High-Quality Toray Carbon Fiber
The carbon material is often seen in race cars and planes, providing extra resistance and lifetime usage. It would be easy to cycling to travel long distances.
The Lightest 3 Folding Bike in the world
SAVA Z3 minimizes the weight in carrying and lifting, provides comfortable cycling and lesser rebounds sensitive on uneven surfaces without making a lot of noise.
There will be weight differences due to manual measurement and  5% manufacturing tolerances.
Unique Design You Have Never Seen Before
SAVA Z3 abandoned the common bicycle fork on the market and changed it to a Special Unique Single Arm design. This design minimises the overall bicycle weight and folded size.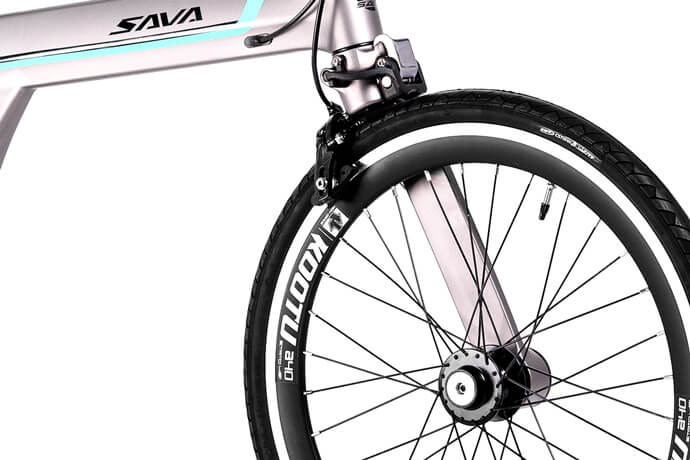 Whole year designing to fulfil user needs and flexible structural requirements from collecting invaluable user experience feedback.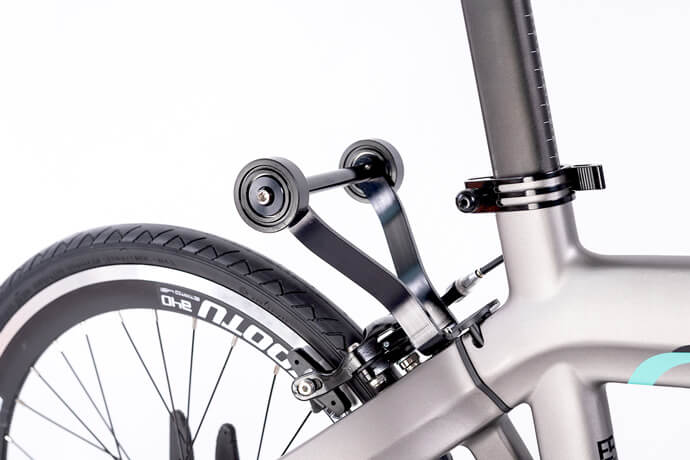 Smoothly push the folded bike

Anywhere, Anyway, Anyplace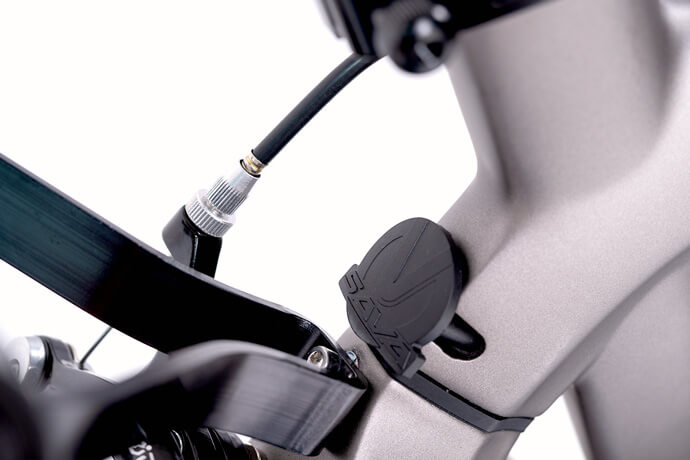 One press to release the rear wheel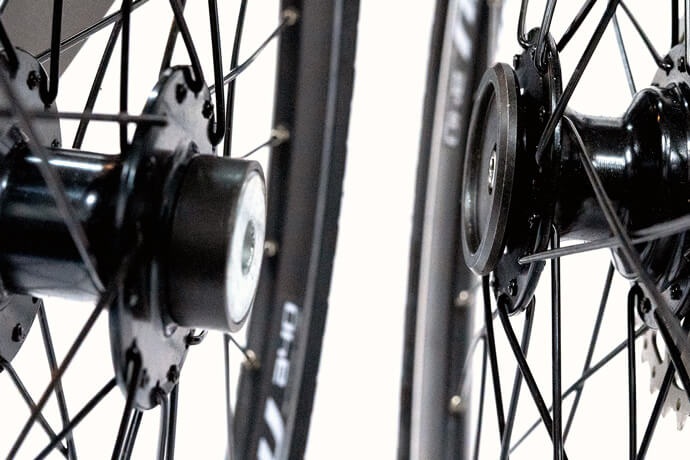 Tighten both wheels from falling apart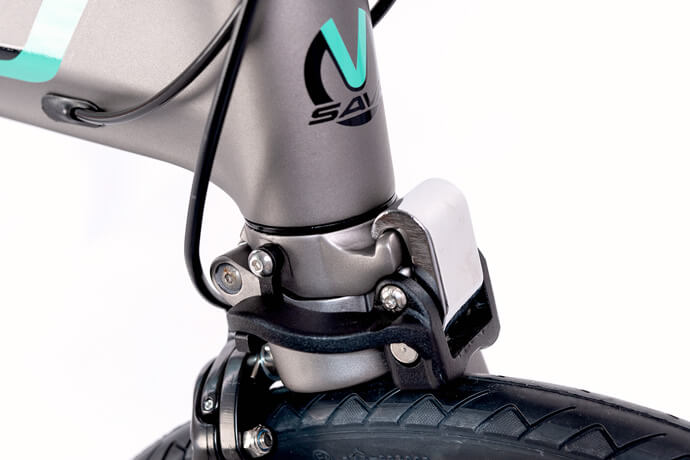 Avoid from unfolding itself

3 Folding Mechanics Design
Effortless folding into a compact size, convenient carry and push with tiny rollers and flexible to store in a smaller place.
Light-press the quick-release button and fold the rear tire 
Unlock the front clip lock and fold the front tire
Release the stem' lock to fold the stem and handlebar
Meeting closer to the world's most compact size and weight. Single hand carry is as easy as you think.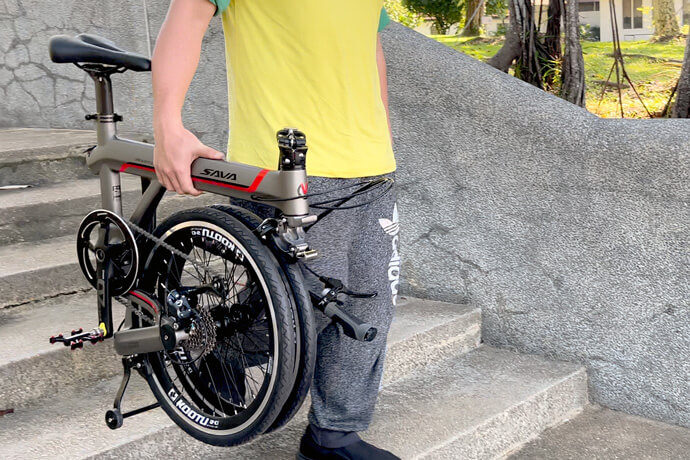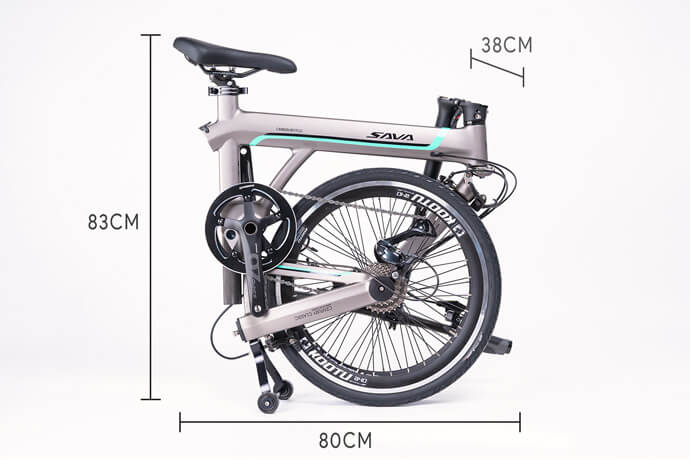 One of the World's greatest folding bicycle features, 80 * 83 * 38 cm (L*H*W), easy stores in compact living space, or carry to anywhere, by bus or MRT, car trunk, boat or plane.
Effortless quick-unfold for steady cycling.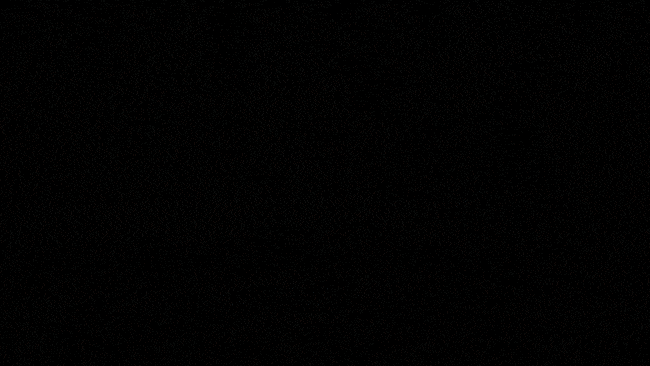 Smooth Shifting as You Like
SAVA tends to build in the entry-level group set to build comfort cycling with Shimano set on shifter and deraileur convenient for all age cyclists to easily adapt and use.
Sunshine is an ideal component with durable material for the ultimate road experience. 9 speed is very easy to adapt to various urban environments and roads.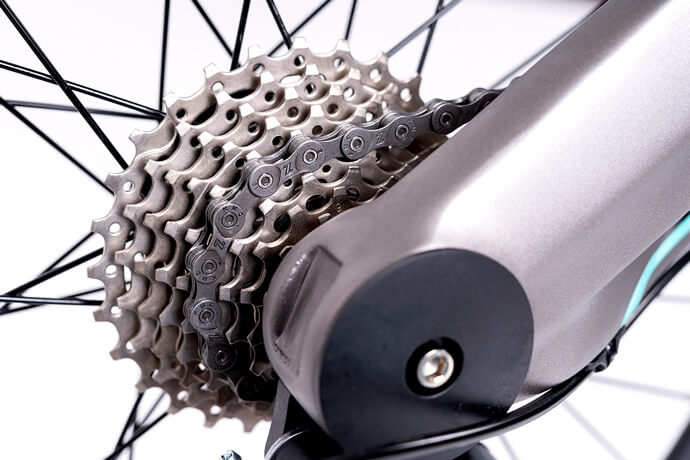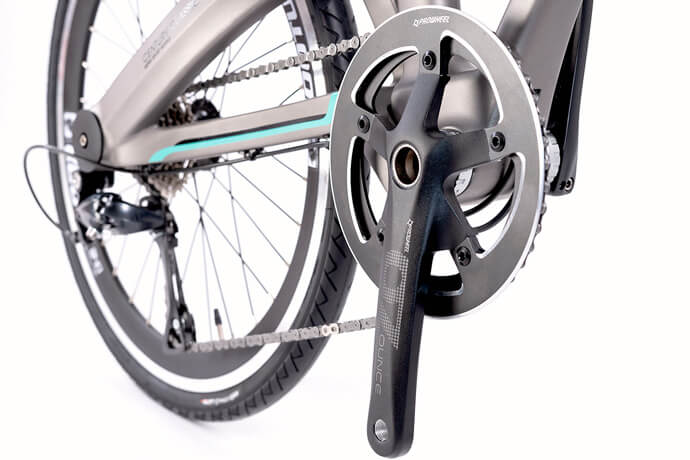 Immortality, Sustainable & Durable
Prowheel is quality-oriented with integrity management and common build-in for most bicycles for excellence progressive and pragmatic.
A complete interface Crankset design maximises pedal power transfer in a lightweight and efficient design.
SAVA brings in the most safer brake set idea, with the popular Tektro Brake Lever and WINZIP V-brake on this bike.
It provides smooth control and balance from instant stops, which help reduce cyclist traffic accidents risk.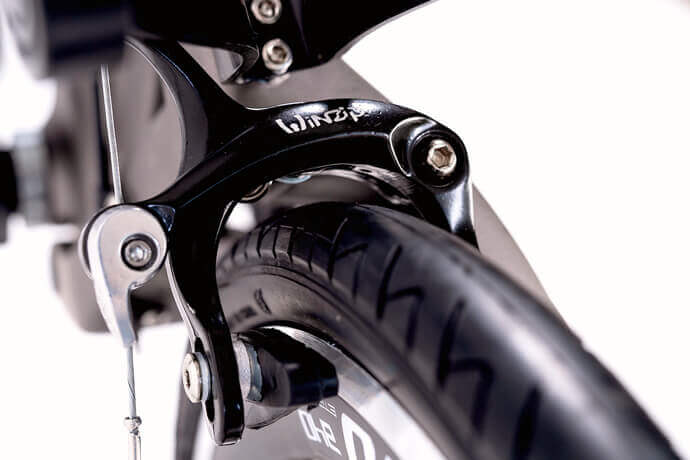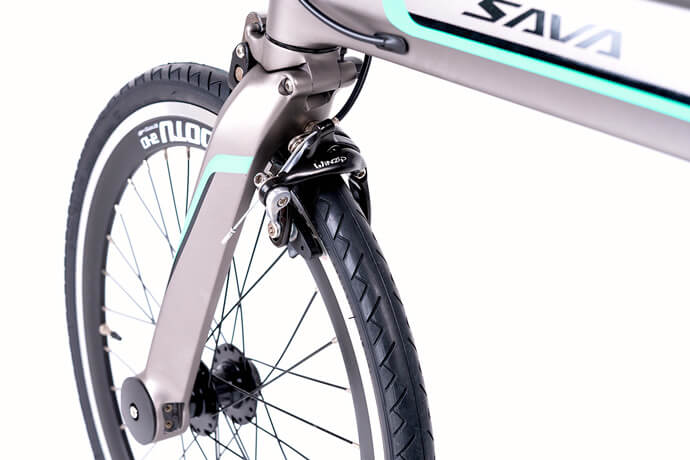 Compared with thick tires,  the smaller friction on the surface, the faster the speed, this CST 20 * 1 3/8 inch tire, make it has better accurate steering control, accelerates easily and maintains speed easier on hills and roads.
KMC, a global brand and trusted partner. The chains are powerful against strong friction and force influences. Allow cyclists to cycle in long hours and support in all weather.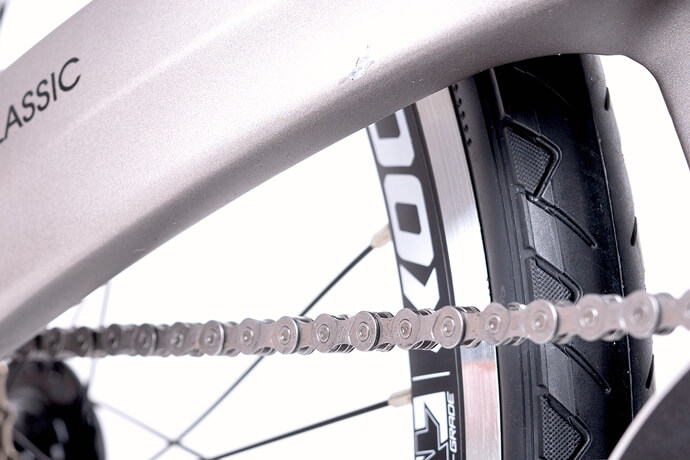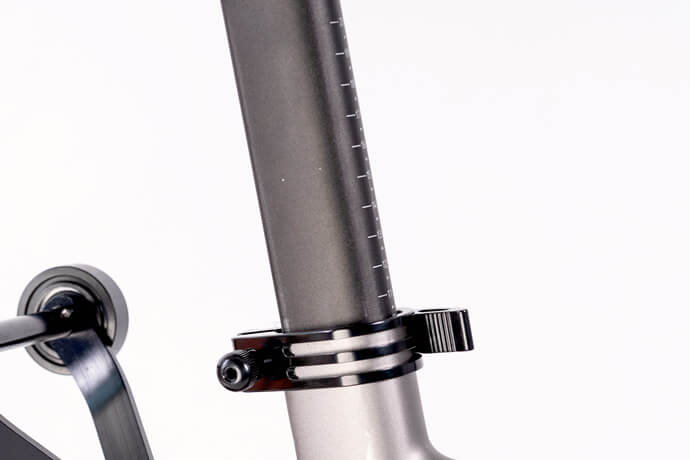 Creative design to hold the seat post and easy to withdraw it by simply unlocking the cramp lock. It remains overall beautiful and adorable.
Enjoyable and secured seat for a hiking and cycling route in long hours.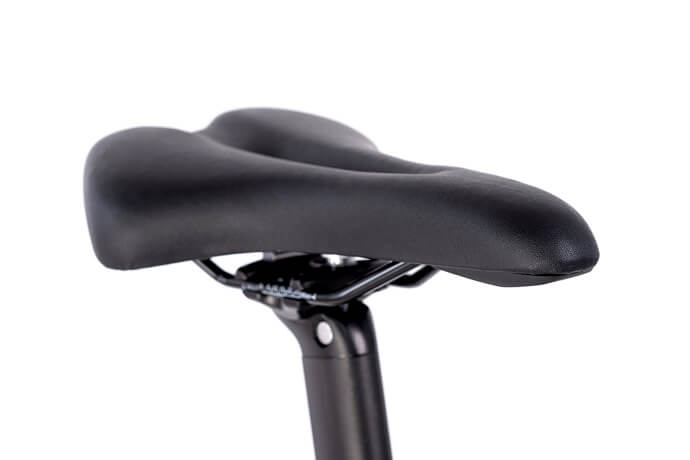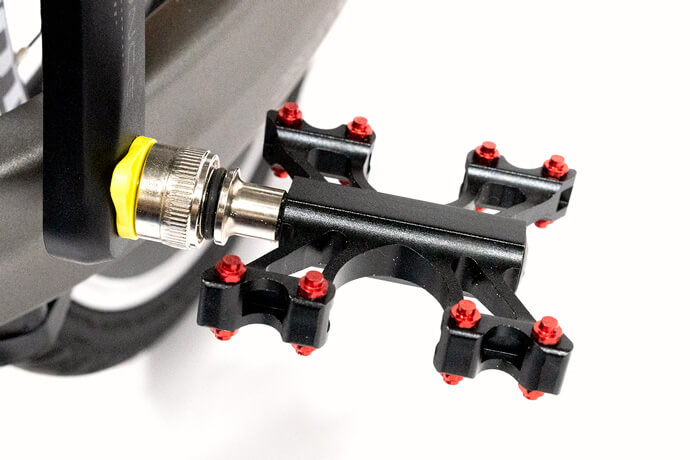 Quick Release Pedal helps users to carry in a smaller compact size and quick installation.
*Free Gift if stock available
The Only SAVA Distributor in Singapore
We are proud to announce that Minimotors Singapore is the only Authorized Distributor for the SAVA brand in Singapore.
For more than 15 years, SAVA has offered the most professional carbon bikes, carbon mountain bikes, carbon folding bikes, carbon electric bikes, and other materials of bikes in different markets of Asia, USA and Europe.
VOLCK are SAVA co-partnership brands in the USA. SAVA partners with many famous brands such as Toray, Shimano, Maxxis, Propalm, fi'zi:k, Prowheel, Chosen etc.
Every purchase of SAVA / VOLCK'S Bicycles from our Minimotors store or website could enjoy up to a 5-year warranty etc.
We always encourage friends to visit our stores to see and feel the quality of the products we carry in 11 Woodlands Close #03-05, S737853 & 37 Jalan Pemimpin #03-03, S577177.
Please do not hesitate, we are FREE for the Test Ride and Inquiry.

Applicable for Framesets (frame and rigid fork), main frame, and full suspension swing arms of the bicycle. Aesthetic defects and damage from misuse of the bikes are not covered.
Brakes & Gear tuning + Shaky Stem Tightening.
ONLY bicycle purchased from MInimotors.
Grey Green, Grey Red, Black Red

147 (l) * 115 (h) * 57 (w) cm

80 (l) * 83 (h) * 38 (w) cm

Frame-Body Carrying System

Alloy SM-AL-110 ¢22.2 * 25.4 * 560mm * 6° Sandblast BK

KSL-07+KS07, Two section, Left Side Folding, forward 12°, Sandblast BK

XH-G120BL 130mm TPR Black Grey

YBT-K6822 Black, PUCO Leather

Alloy Sandblast BK, Water Drop Type, 500mm

Iron + Alloy GH-189, Flat Cover 8mm, 28.6 * 44 * 30

Derailleur / Brake System

SHIMANO SORA SL-R3000, 9 Speed 2050mm

SHIMANO SORA RD-R3000, GS 9 Speed

TEKTRO, CL525F-RS Hybrid Brake, 2 Finger Lever Blade, Aluminum ED with Bell, Rear Brake

TEKTRO, CL520F-RS Hybrid Brake, 2 Finger Lever Blade, Aluminum ED Black, Front Brake

WINZIP, WB-P401DG F, Aluminum ED/458, F30*18

WINZIP, WB-P420DG R, Aluminum ED/458, F12.8*10.5

SUNSHINE ROAD-CS-HR9-28, 9 SPEED, 11-28T

PROWHEEL OUNCE-245A-TT 45T*170mm

KMC Z9 /GY/GY/102L/RO/CL566R

CNC WQ/R 1 Bearing, 1DU Black Red

20 * 1-3/8 (451*40 mm) * 14G * 32H F/V

Two bearings 14G*32H Aluminum

Four bearings 14G*32H Aluminum

CST (37-451) 20 * 1 3/8" C-1653-1
Additional information
| | |
| --- | --- |
| Weight | N/A |
| Model | Z3 |
| Material | Carbon fiber |
| Carbon Fiber | Fork-Single Arm, Frame |
| Color | Black/Red, Grey Green, Grey Red |
| Speed Change | 9 Speeds |
| Weight | 10.6 kg |
| Max Load | 90 kg |
| Suitable Height | 155 – 175 cm |
| Frame | 20" Carbon Folding Frame |
| Handlebar | Alloy SM-AL-110 ¢22.2*25.4*560mm*6° Sandblast BK |
| Stem | KSL-07+KS07, Two section, Left Side Folding, forward 12°, Sandblast BK |
| Saddle | YBT-K6822 Black, PUCO Leather |
| Seat Post | Alloy Sandblast BK, Water Drop Type, 500mm |
| Headset | Iron + Alloy GH-189, Flat Cover 8mm, 28.6 * 44 * 30 |
| Right Shifter | SHIMANO SORA SL-R3000, 9 Speed 2050mm |
| Rear Derailleur | SHIMANO SORA RD-R3000, GS 9 Speed |
| Left Brake Lever | TEKTRO, CL525F-RS Hybrid Brake, 2 Finger Lever Blade, Aluminum ED with Bell, Rear Brake |
| Right Brake Lever | TEKTRO, CL520F-RS Hybrid Brake, 2 Finger Lever Blade, Aluminum ED Black, Front Brake |
| Front Brake | WINZIP, WB-P401DG F, Aluminum ED/458, F30*18 |
| Rear Brake | WINZIP, WB-P420DG R, Aluminum ED/458, F12.8*10.5 |
| Cassette Sprocket | SUNSHINE ROAD-CS-HR9-28, 9 SPEED, 11-28T |
| Crankset | PROWHEEL OUNCE-245A-TT 45T*170mm |
| Chain | KMC Z9 /GY/GY/102L/RO/CL566R |
| Pedals | CNC WQ/R 1 Bearing, 1DU Black Red |
| Rim | 20 * 1-3/8 (451*40 mm) * 14G * 32H F/V |
| Front Hub | Two bearings 14G*32H Aluminum |
| Rear Hub | Four bearings 14G*32H Aluminum |
| Tires | CST (37-451) 20 * 1 3/8" C-1653-1 |
| Package Size | 73 * 40 * 83 cm |