Sale!
VOLCK Carbonite EX Full Carbon Fiber Road Bike | Shimano Dura-Ace R9100 | Free Shipping & Assemble | 5 Years Warranty
In Stock | New Product Limited Edition

Volck Carbonite EX is a Full Carbon Fiber Road Bike. Stiff with only 8.4kg equipped with the professional-level set,  SHIMANO Dura-Ace R9100 2*11 Speeds Shifter & brake lever, brake calliper, derailleur system, Cassette Sprocket, Crankset and Bottom Bracket.
SHIMANO Dura-Ace R9100 enable you to operate your ride effectively, smoothly shifting, and durable. Also will empower more riders than ever before to embrace the sport of road cycling.
The frame, fork, rim, handlebar, and seat post are made by Japan Toray T700 Carbon Fiber and aerodynamic contours. Fully-internal cable routing ensures clean airflow over the entire bike. The tapered head tube strengthens the torsion rigidity and gives riders better handling.
FREE Lifetime Brakes tuning. (U.P. $15-20/time)
FREE Lifetime Gear tuning. (U.P. $20-30/time)

Noted: Please consider due to high demand, limited stock is available for order. Orders accepting on a first come first serve basis.
Description





Full Carbon Road Bike | Shimano Dura-ace R9100
VOLCK Carbonite EX Full Carbon Fiber Road Bike built with a carbon fiber integrated frame with a brake internal routing design. The bicycle's appearance is simply aesthetic and the weight of the bicycle is about 8.4 kg. The 700x25C tires are the ultimate choice for road riders who want more volume for training or competition. With the help of the Shimano Dura-Ace R9100 22-speed, minimal effort is required to move off. Are you ready for a ride? VOLCK Bicycles are our Best Carbon Fiber Road Bike choice.
Lightest & High-Quality T700 Toray Carbon Fiber
Coherent Visual Aesthetics, designed in Germany. High-Quality Enhances the toughness and withstands shock and vibration
The classic look and the lightest bike only weighs
The large area of carbon fiber makes the vehicle a lighter and more relaxed riding experience.
The weight of the entire vehicle is only about 8.4 kg and there will be weight differences due to manual measurement and 5% manufacturing tolerances.
Innovation Design : Safe, Stable, Responsive
Wires designed to be fully internally routed inside the frame, to prevent pear off and obstruct riders' cycling for a better experience.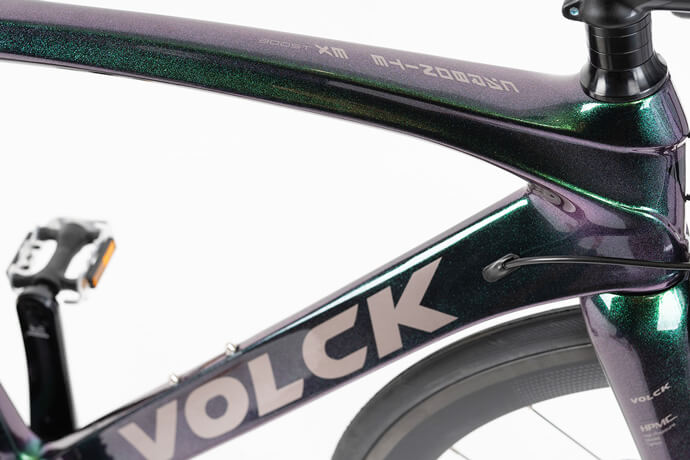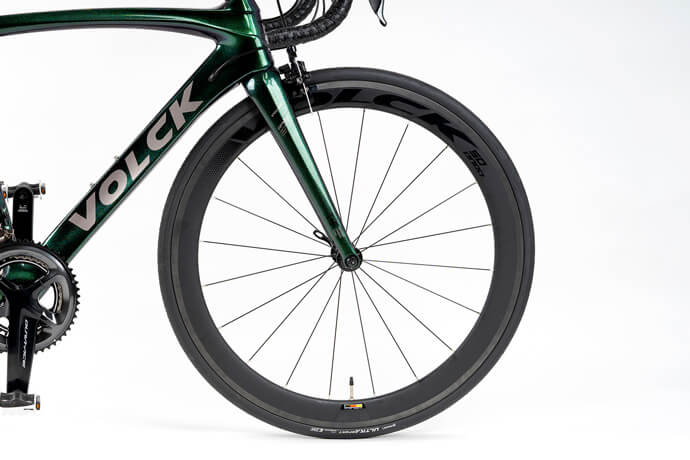 Tires with 700 Carbon Rim : Long Durable & Greater Saving
Light aerodynamic weight and great tire's tendency reduction. A stiff 60 TPI carbon wheelsets casing with EPS puncture layer to shave critical ounces protect you from flats and make positive cornering steering on your competition and training ride.
Smooth Shifting as You Like
The new design of Shimano Dura-Ace is System Supremacy – system engineering at its peak. It constitutes in left & right shift with brake lever, front & rear derailleur, crankset, bottom bracket, and brake caliper. Each of the components magnifies the qualities of the others for an unparalleled level of performance.
Better Performance for Efficient Rides
Designed for best climbers, sprinters, and time trialists, the DURA-ACE R9100 crank drops weight while maximizing power transfer that is the great choice in the world.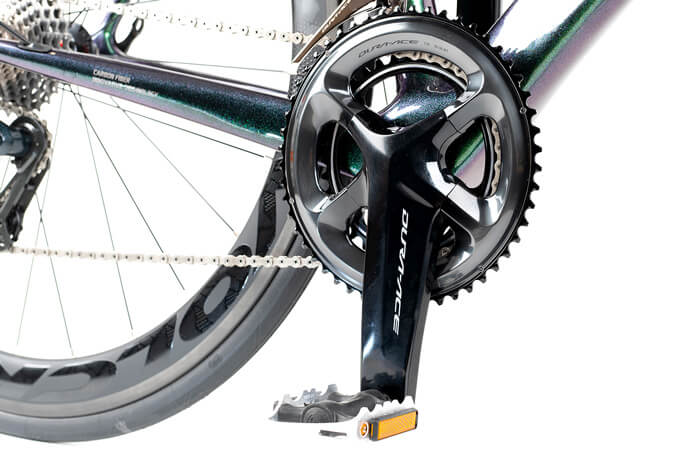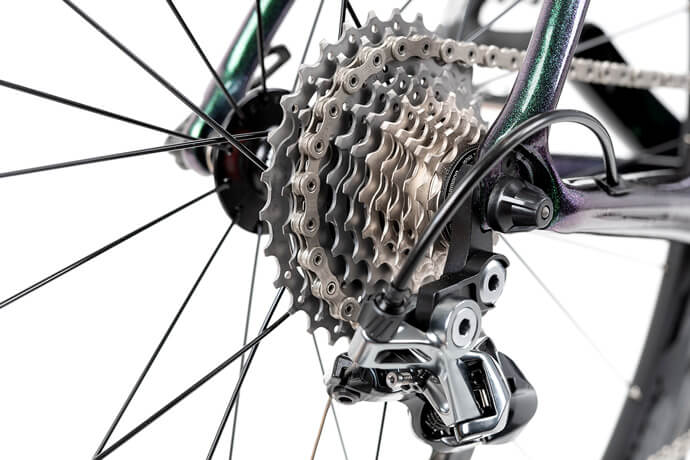 The DURA-ACE R9100 is an ideal component with durable material for the ultimate road experience. 11 Speed provides accurate shifting and light weight to the most discerning road cyclists on the planet.
Shimano brings in the most safer brake set idea, which SLR-EV dual symmetric pivot design with a roller to realize greater efficiency, deliver superior modulation and stopping power.
It provides smooth control and balance from instant stops, which help reduce cyclist traffic accidents risk.
The chain received completely SIL-TEC treatment on its plates and roller for increased durability and efficiency.

The unique asymmetric design ensures smooth front and rear shifts while reducing drivetrain noise. Allow cyclists to cycle for long hours and support in all weather.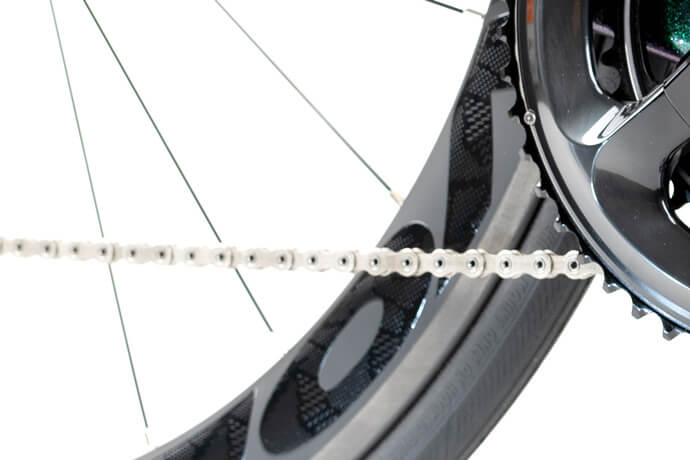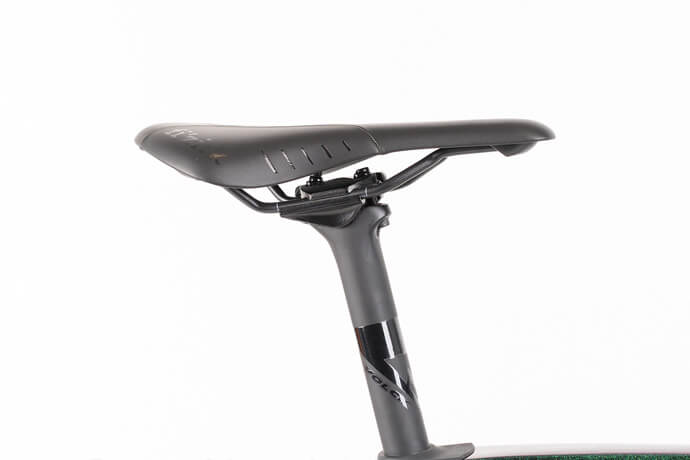 Enjoyable and secured seat for a hiking and cycling route in long hours.
The Only SAVA Distributor in Singapore
We are proud to announce that Minimotors Singapore is the only Authorized Distributor for the SAVA brand in Singapore.
For more than 15 years, SAVA has offered the most professional carbon bikes, carbon mountain bikes, carbon folding bikes, carbon electric bikes, and other materials of bikes in different markets of Asia, USA and Europe.
VOLCK are SAVA co-partnership brands in the USA. SAVA partners with many famous brands such as Toray, Shimano, Maxxis, Propalm, fi'zi:k, Prowheel, Chosen etc.
Every purchase of SAVA / VOLCK'S Bicycles from our Minimotors store or website could enjoy up to a 5-year warranty etc.
We always encourage friends to visit our stores to see and feel the quality of the products we carry in 11 Woodlands Close #03-05, S737853 & 37 Jalan Pemimpin #03-03, S577177.
Please do not hesitate, we are FREE for the Test Ride and Inquiry.

Applicable for Framesets (frame and rigid fork), main frame, and full suspension swing arms of the bicycle. Aesthetic defects and damage from misuse of the bikes are not covered.
Brakes & Gear tuning + Shaky Stem Tightening.
ONLY bicycle purchased from MInimotors.
Grey-Black, Glossy Chalmeleon

Frame, Handlebar, Seat Post, Fork and Rim

Frame-Body Carrying System

Carbon Frame T700 R09, Built-in cables

Carbon Fork T700 R09, 100 mm

Carbon T700 420L * 31.8, Black

Aluminum SM-A106-8 31.8 * 100 * 28.6 ± 7°, Black

Carbon T700, R09 350mm Black

PU, 3WPG-BK Single Color, Black,  2150 * 30mm

GH-540, 1-1/8" 28.6 *47 * 47

Derailleur / Brake System

Left Shifter & Brake Lever

SHIMANO Dura-ace ST-R9100-L, Dual Control, 2 * 11 Speed, Rear Brake

Right Shifter & Brake Lever

SHIMANO Dura-ace ST-R9100-R, Dual Control, 11 Speed, Front Brake

SHIMANO Dura-ace FD-R9100-F, Brazed-On Mount, 2 * 11 Speed

SHIMANO Dura-ace RD-R9100-SS, 11 Speed

SHIMANO Dura-ace BR-R9100, Dual-Pivot Brake Caliper

SHIMANO Dura-ace CS-R9100, 11-30T

SHIMANO Dura-ace FC-R9100, Hollowtech II, 2 * 11 Speed, 170 mm 52 * 36T

SHIMANO Dura-ace SM-BB92-41B, Press Fit Bottom Bracket 86.5 mm Shell Width

SHIMANO Dura-ace CN-HG901-11 11 Speed Super Narrow Road Chain

Carbon, 700C*14G*16H/21H, H:55mm F/V

Two Bearings, 16H*14G  M9*108*100, W/QR

Four Bearings,  21H*14G  M10*140*130 , W/QR

Continental Ultra Sport II (C304 SL) 700x25C Black
Additional information
| | |
| --- | --- |
| Model | Carbonite EX |
| Size | 700c * 510 [165-175cm], 700c * 540 [175-190cm] |
| Material | Carbon fiber |
| Carbon Fiber | Fork, Frame, Handlebar, Seat Post |
| Color | Black/Silver, Glossy Chalmeleon, Grey/Black |
| Speed Change | 2*11 Speeds |
| Weight | 8.4kg |
| Max Load | 120 kg |
| Suitable Height | 165 – 190 cm |
| Frame | Carbon Frame T700 R09, Built-in cables |
| Fork | Carbon Fork T700 R09, 100 mm |
| Handlebar | Carbon T700 420L * 31.8, Black |
| Stem | Aluminum SM-A106-8 31.8 * 100 * 28.6 ± 7°, Black |
| Seat Post | Carbon T700, R09 350mm Black |
| Saddle | FIZIK, Black |
| Headset | GH-540, 1-1/8" 28.6 *47 * 47 |
| Left Shifter & Brake Lever | SHIMANO Dura-ace ST-R9100-L, Dual Control, 2 * 11 Speed, Rear Brake |
| Right Shifter & Brake Lever | SHIMANO Dura-ace ST-R9100-R, Dual Control, 11 Speed, Front Brake |
| Front Derailleur | SHIMANO Dura-ace FD-R9100-F, Brazed-On Mount, 2 * 11 Speed |
| Rear Derailleur | SHIMANO Dura-ace RD-R9100-SS, 11 Speed |
| Cassette Sprocket | SHIMANO Dura-ace CS-R9100, 11-30T |
| Crankset | SHIMANO Dura-ace FC-R9100, Hollowtech II, 2 * 11 Speed, 170 mm 52 * 36T |
| Bottom Bracket | SHIMANO Dura-ace SM-BB92-41B, Press Fit Bottom Bracket 86.5 mm Shell Width |
| Chain | SHIMANO Dura-ace CN-HG901-11 11 Speed Super Narrow Road Chain |
| Pedals | LP-658A Alloy, 9/16" BR Black |
| Rim | Carbon, 700C*14G*16H/21H, H:55mm F/V |
| Front Hub | Two Bearings, 16H*14G  M9*108*100, W/QR |
| Rear Hub | Four Bearings,  21H*14G  M10*140*130 , W/QR |
| Tires | Continental Ultra Sport II (C304 SL) 700x25C Black |
| Package Size | 141 * 22 * 77 cm |