Sale!
Dualtron Spider Electric Scooter | The Lightest Dual Motor | LTA Approved | UL2272 | Safety Mark | 6 Months Warranty
LTA Approved | UL2272 certified electric scooter
Minimotors brings you the featherweight champion of electric scooters.
Dualtron Spider is a class of its own, weighing only 19.95kg. While it's capable of going over 25km/h in speed with the front and rear brushless motor 1500W (Total: 3000W) lightweight motors. And you can ride it up to 80km in distance with a 60V 17.5Ah LG battery.
Dualtron Spider has all the benefits of its predecessor and nothing short of all the latest upgrades. Furthermore, it is equipped with an EYE throttle that enables additional security with a fingerprint sensor and a new LED that improve visibility. Bring your spider anywhere you go. And it is lightweight and easy to bring into any public transportation.
Main feature:
60V 17.5Ah LG Battery

1500W DC Brushless Motor x2

Up to 80 km Distance

20kg

10″ Pneumatic Tire
Front and Rear Full Rubber Suspension
Anti-lock brake System
Fold size is 113 * 24.3 * 48 cm (Can Carry to MRT, Bus, Car Trunk)
Include Free Waterproof Register Number Sticker
Out of stock
Description





Dualtron Spider Electric Scooter
Dualtron Spider has all the benefits of its predecessor and nothing short of all the latest upgrades. Bring your spider anywhere you go. And it is lightweight and easy to bring into any public transportation.
Built to be sleeker, thinner and lighter, but with the same technology that powers the best of the Dualtron Series. Responding to our customers who wanted a powerful, fast and responsive e-Scooter which can go the distance like the rest of its brothers, but without the heavy bulk and weight that is inherent in their construction, the Spider uses new space age materials to create a stronger but lighter product. With this, the world's first lightweight dual motor electric scooter under 20 KG was born! Feather-weight, but full of power and built for speed, the Spider is built for men as well as women. Minimotors – taking the responsibility to develop technology, and taking the lead in developing products that customers want.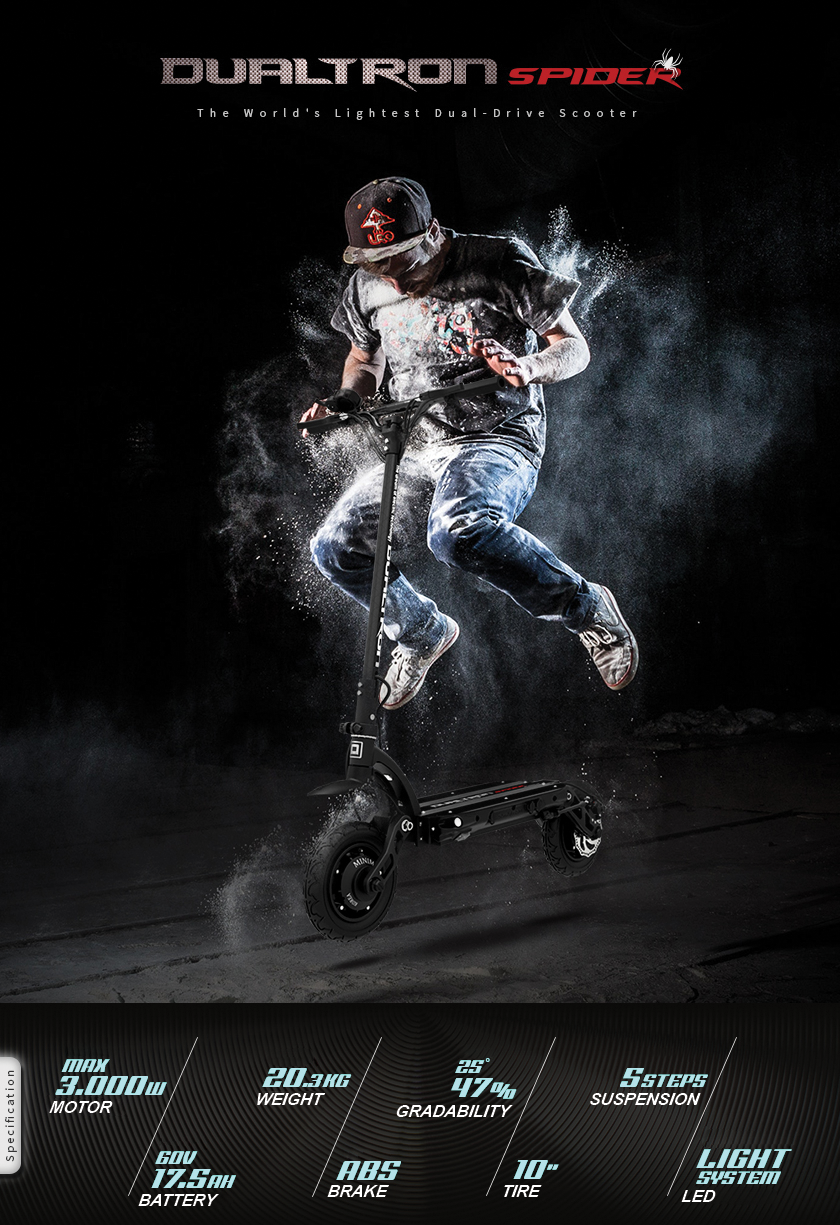 COMBINED SUSPENSION SYSTEM
Dualtron Spider combines the hallmark front fixed suspension with rear variable suspension with 3 different level settings. This gives the right amount of flexibility to suit different riding environment and the weight of the rider for optimum ride comfort. (Patent pending)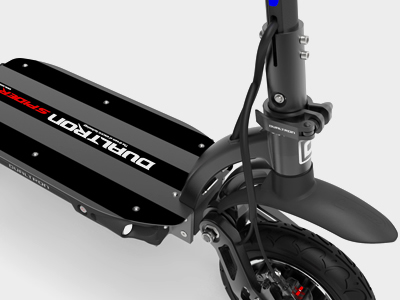 ADJUSTABLE SUSPENSION ARM ANGLE (REAR)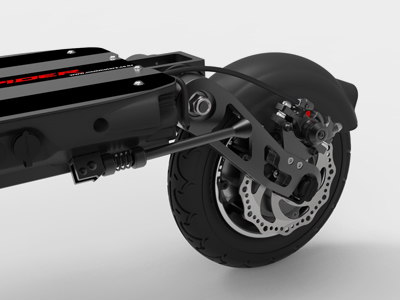 The height of the suspension can be adjusted to:
 Level 1 (LOW) Urban roads
Level 2 (MID) Default
Level 3 (HIGH) Off road conditions
Dualtron unique drive system with a complete and newly designed maximum output 3000W BLDC motor. Super lightweight! Experience the power of the original two wheel drive electric kick board.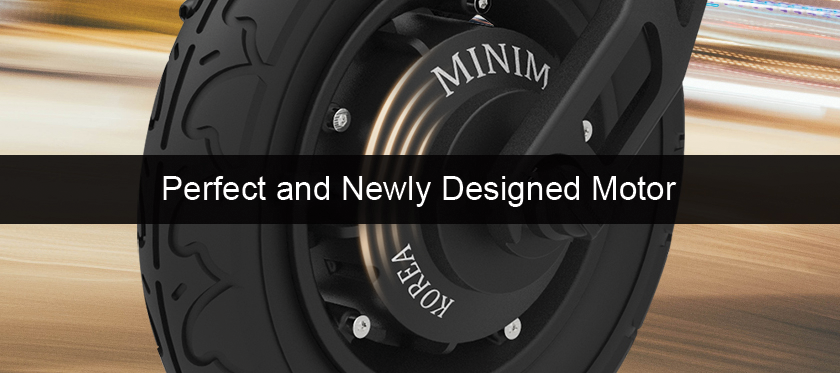 5 TYPES OF REPLACEABLE RUBBER CARTRIDGES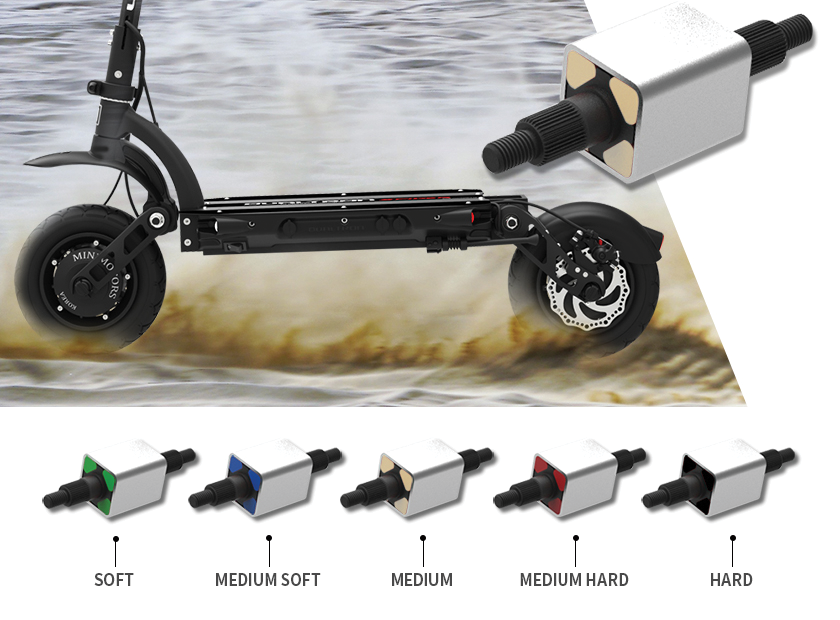 You can easily replace the suspension rubber cartridges to adjust the strength of the electric scooter suspension your liking. The rubber cartridges are graded for different levels of elasticity. (Available for both front and rear suspension)
ANTI-LOCK BRAKE SYSTEM AS STANDARD
All electric vehicles generate tire locks during sudden braking, resulting in tire skids, sudden stops and loss of control, causing the rider to fall off and get injured. In order to solve the problem of wheels locking up during emergency braking, the ABS provides a series of intermittent braking signals to help prevent tire lock, effectively stopping the electric scooter over a short distance. Third Generation Dualtron are equipped with ABS brake function as a standard feature to eliminate tire locks, allowing riders to brake more safely. (Patent pending number : 10-2018-0045825 )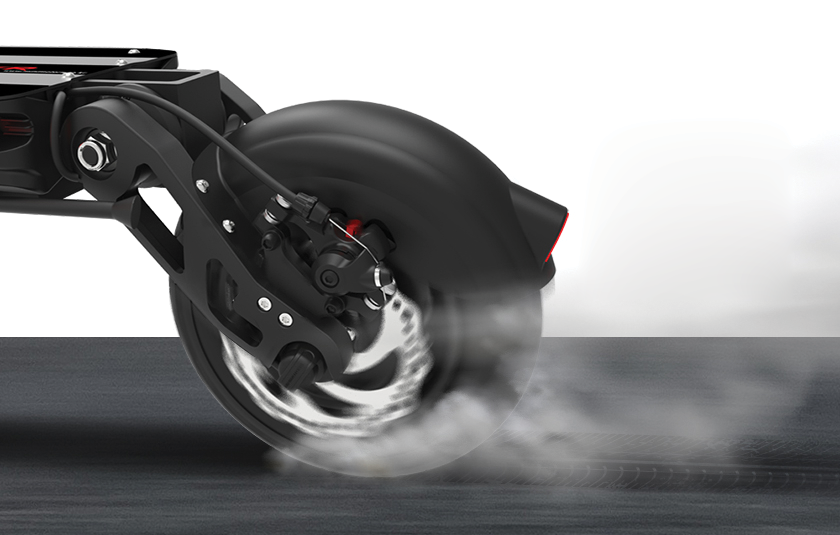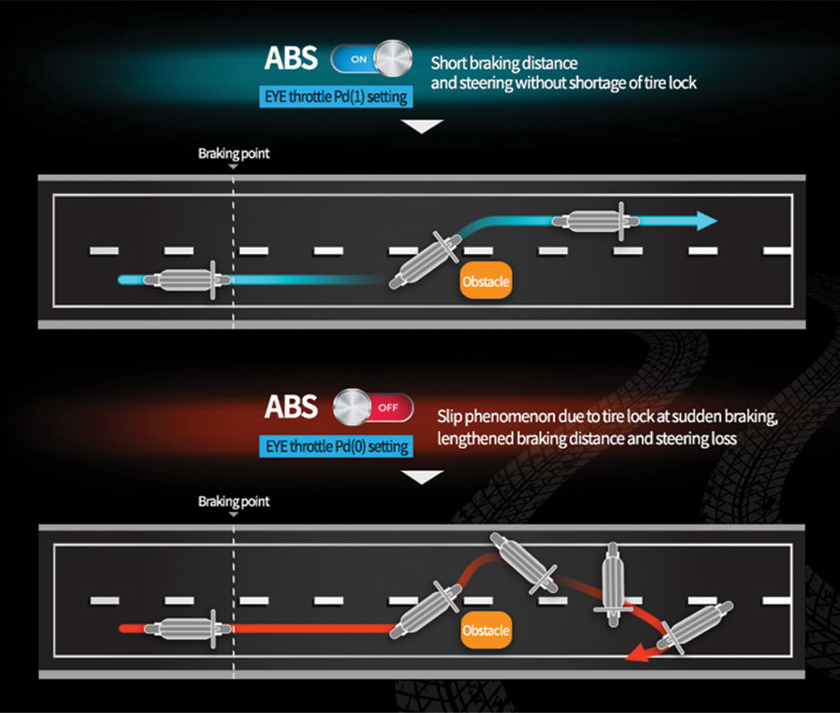 Precautions when using ABS function
The ABS provides a series of braking impulses when applied. Due to the nature of ABS, the brakes are operated many times per second, causing vibrations to the electric scooter motor and body. Repetitive vibrations caused by this may cause the motor, rim and other parts to loosen over time. Always check your electric scooter to ensure that all parts are secured before riding.
The Spider has a built-in LED light system integrated to the steering tube, front, rear and brake lamps, which improves visibility plus adds the right touch of style.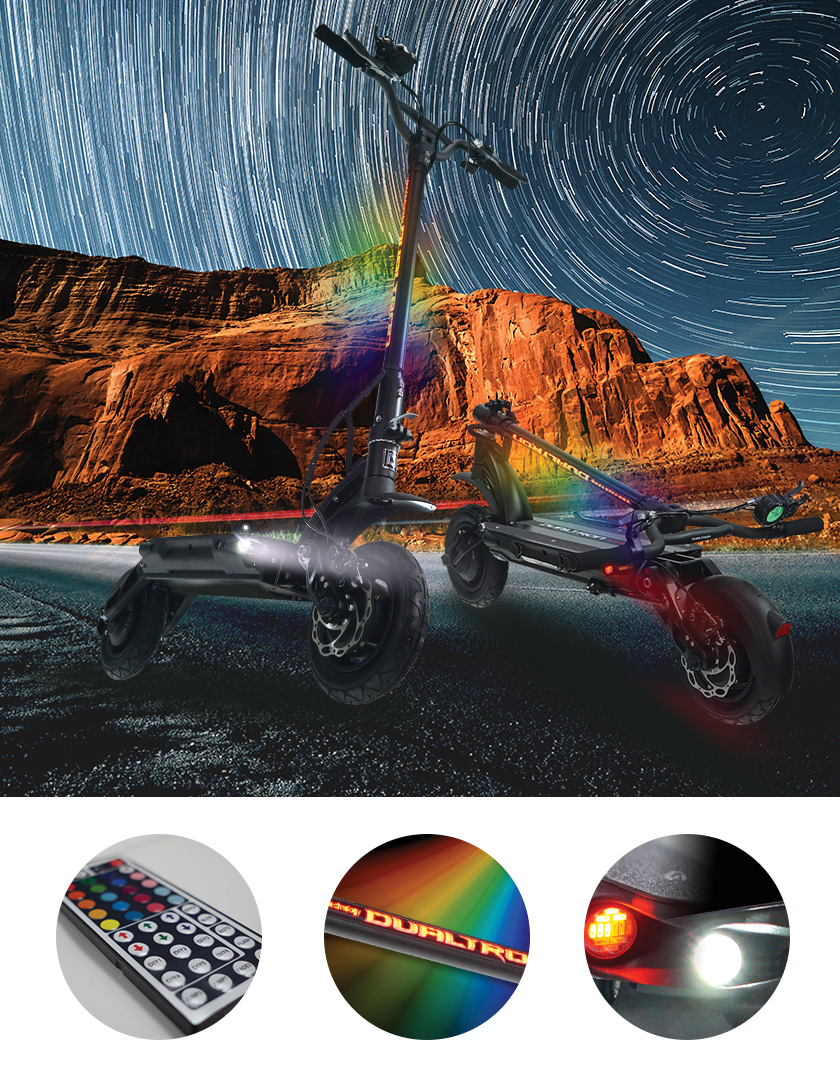 THE NEW EYE THROTTLE SYSTEM
All 3rd Generation Dualtron and above are equipped with an original smart EYE throttle system designed by Minimotors. Overcoming the drawbacks of existing throttles, the EYE throttle has been designed for improved functionality and intuitiveness and styled for elegance in design.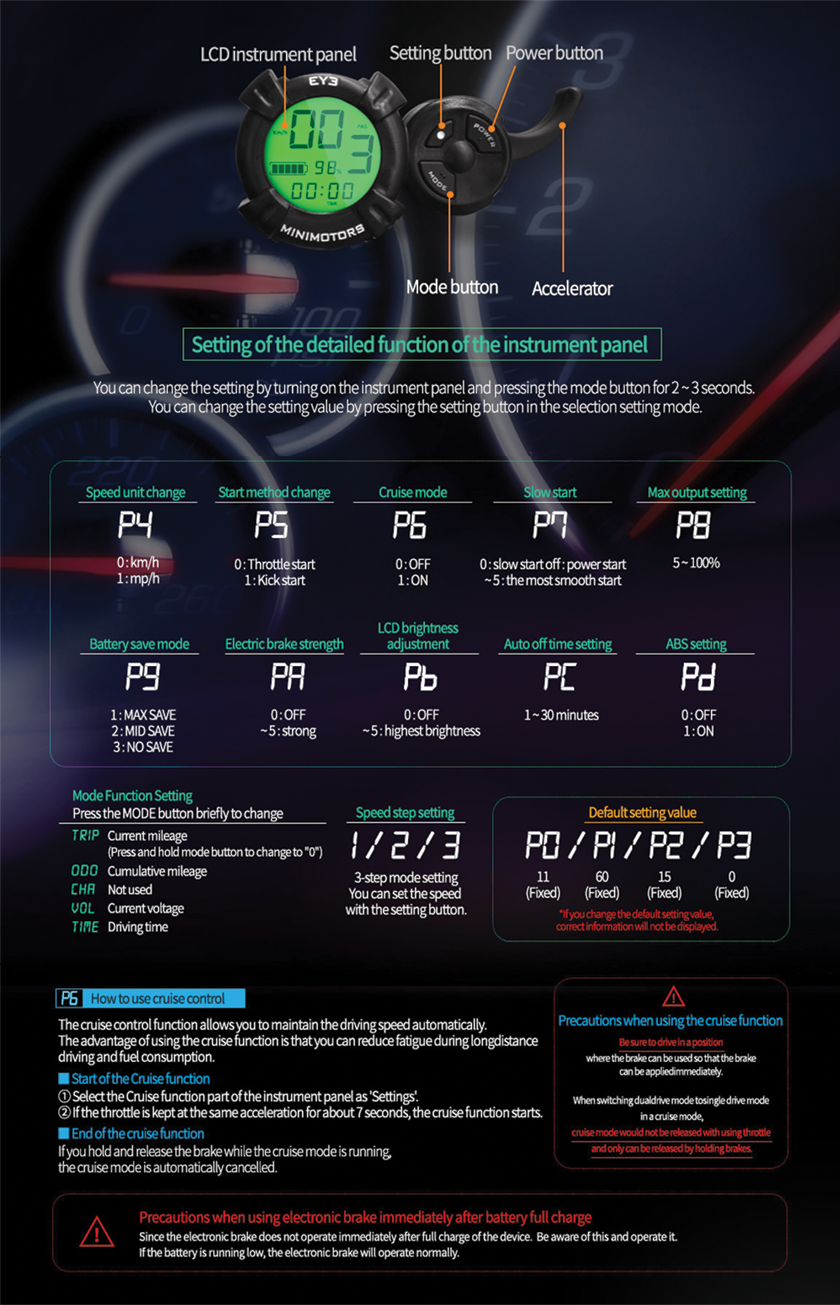 MINIMOTORS SMART FINGERPRINT IDENTIFICATION SECURITY SYSTEM
(MS-FISS)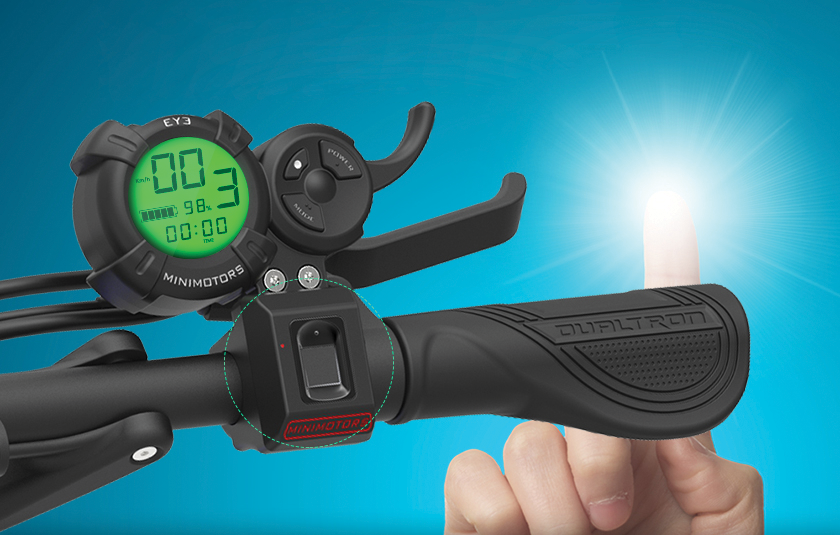 Developed jointly by Minimotors & Crucial Tec, 3rd Generation Dualtron sare equipped with an optional smart fingerprint security system which was officially unveiled at the world's largest Mobile World Congress (MWC2018) exhibition. (The Smart fingerprint reader is compatible only with the new EYE throttle system)
FRAME DESIGNED WITH COMPLETENESS AND DURABILITY IN MIND
All frames including the swing arm, suspension arm, stem base, and handlebar have been redesigned to enhance the durability and completeness of the product.
To maintain the battery life, the Dualtron III has its own built-in robust main power switch with a dust seal cover, which can significantly reduce standby power consumption.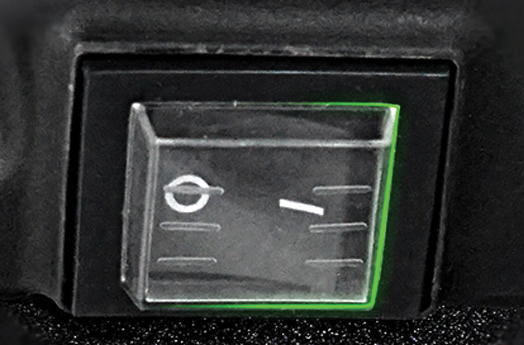 DUST SEALING COVER FOR MOTOR & BRAKE CABLES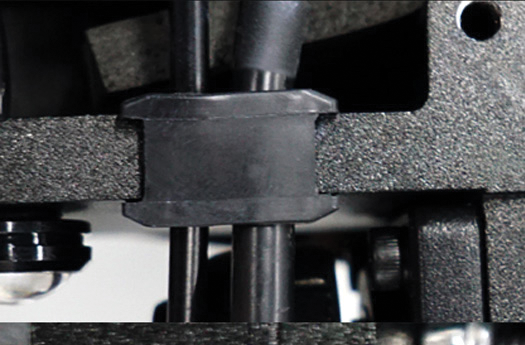 In order to further rugged the product, and to prevent damage from the elements, cable connections are protected with a dust seal.
THE SAFEST 100% DOMESTIC SAMSUNG SDI LITHIUM-ION BATTERY PACK
As a standard of our dedication to quality and safety, our Dualtron is powered by the "Safest Lithium-Ion Battery-Pack" manufactured by Samsung SDI of Korea, which passed the Samsung SDI Customer Environmental Test (CET). With a high-quality finishing of 1.2T steel powder-coated hard casing, the battery circuit and cell are protected from hard knocks and shocks to ensure safe and disrupted rides. (Picture shown is a Dualtron 3: 60V 35AH)